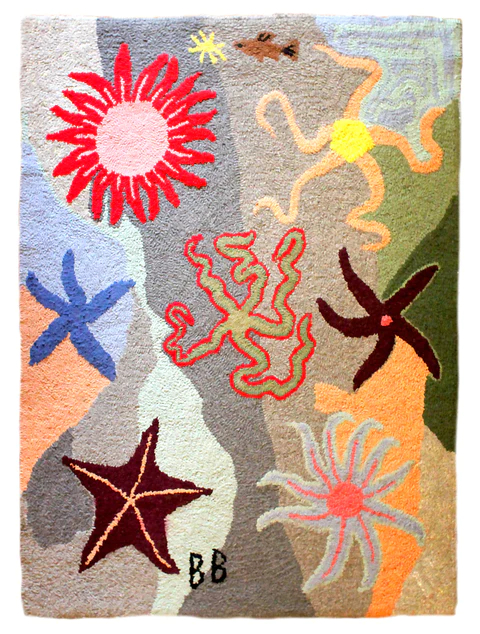 DEANNA DAVIS OF RIBBON CANDY HOOKING
JUNE 7 @ 2 PM
The New Canaan Museum & Historical Society is thrilled to welcome back rug hooking historian and artist Deanna Davis for a program —A Rug Hooking Fairy Tale—followed by a rug hooking workshop for those who want to stay. Participants will have a choice of which kit to make (all pictured here) for a charge of $85.
Rugmaking is one of the most romantic and historically significant textile mediums there is, particularly to New Englanders where hooking has been a cozy and thrifty pastime for many generations. One of the most endearing rug hooking histories revolves around Alice Butler and her son, Vic, who designed and hooked rugs together as a team from the 1950s until the 1980s. Alice was a technical genius, keeping a closet of wool resembling a rainbow of rags, all sourced at local thrift shops. Vic was an artist with a penchant for early Disney animation and modern art. Vic drew some of the most unusual and innovative compositions in the history of the craft, and his mother diligently hooked them with the technical prowess modern rugmakers dream about.
The program presents a look at the fantastical catalog of work from two perspectives—its place in the history of art and the canon of rugging royalty.
After the presentation, Deanna welcomes all to hook with her. Whether an absolute beginner or a seasoned rugger, she will walk through the basics of this simple and relaxing craft. Participants can pick from one of three images (starfish, modern, or sunflowers) and receive a kit with the pattern on linen, the wool strips needed to complete the project, a hoop, and a hook. Odd fabrics and ribbons are also welcome and can be incorporated. Everyone will leave with a full understanding of supplies and techniques needed for future hooking adventures.
Please RSVP to ngeary@nchistory.org and, if you are staying after the presentation, please indicate which pattern you prefer. Payment will be made directly to Deanna on June 7.