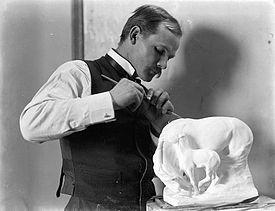 The Life and Work of Solon Borglum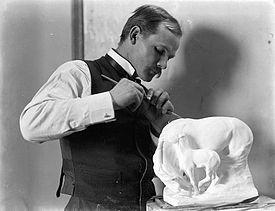 Monday marks the 100thanniversary of the death of the sculptor Solon Hannibal de la Mothe Borglum. The founder of the Silvermine group of artists, his descendants are still residents of New Canaan. And the New Canaan Museum & Historical Society is the proud owner of Evening, a beautiful bronze of a rancher and his horse on permanent display in the Town House parlor.
To mark this anniversary, I wanted to share some of the rich details of his life.
Solon's father, Jens, was a Danish immigrant and a Mormon, who settled in Salt Lake City with his first wife, Ida, in 1864. Jens then also married Ida's younger sister, Christina in 1865. He had two children with each wife. Gutzon Borglum (an artist who would later create Mount Rushmore) and Solon were born in Ogden, Utah. After three years, the family left the Mormon church, Jens and Christina divorced, and Jens, Ida, and all four children moved to Nebraska.
Solon had little interest in formal education, and spent his teenage years working on his father's ranch in Fremont, Nebraska. He did, however, have a talent for drawing horses. Brother Gutzon encouraged him to pursue a career in art. In 1893 Solon went to Omaha to study with J. Laurie Wallace (1864-1953), an Irish-born American painter who was the Director of the Western Art Association in Omaha. In 1895, Solon entered the Cincinnati Art Academy, where the sculptor and teacher Louis Rebisson (1837-1899) encouraged him to try sculpting. His first effort was a group of horses based on observations and drawings he had made at the U.S. Mail stables in Cincinnati.
In 1898 the Art Academy awarded Borglum a scholarship. He went to Paris, enrolled at the Académie Julian as a student of Denys Puech. He drew on his memories of the west and created a vibrant statue of a cowboy on horseback lassoing another horse, Lassoing Wild Horses, which won Place of Honor in 1898 at the Paris Salon. He moved to New York City, and, in 1901, was awarded a silver medal at the Pan-American Exposition in New York for twelve bronzes.
In 1905, he was commissioned to do an equestrian statue of a Civil War General (John Gordon) in Atlanta, Georgia. This was completed and unveiled on May 25, 1907. While working on it, Solon heard that Prescott, Arizona, wanted to have a Captain William ("Bucky") O'Neill Memorial. He sought the commission and worked on both statues at the same time. The statue, called the Rough Rider Monument, is considered by many to be Borglum's greatest achievement.
In 1906, Borglum purchased a modest farmhouse and moved to the Silvermine section of New Canaan. When fellow artists Addison T. Millar, D. Putnam Brinley, Richard B. Greulle, Gruelle's sons Johnny and Justin, and Carl Schmitt all settled in the area, Solon organized them into the Silvermine Group of artis, or "Knockers," who gathered in his studio on Sundays to critique each other's work. At the end of each summer, they produced a joint exhibition, which drew crowds from all over Connecticut and New York.
At the age of fifty, Borglum served in World War I in a civilian capacity and was awarded the Croix de Guerre medal. When he returned, he established the School of American Sculpture in New York City, one of the first art schools devoted solely to American Sculpture. He died of appendicitis at the young age of fifty-three.
At the Museum, we will continue to honor his legacy and celebrate his art.
Warm regards,
Nancy Geary
Executive Director