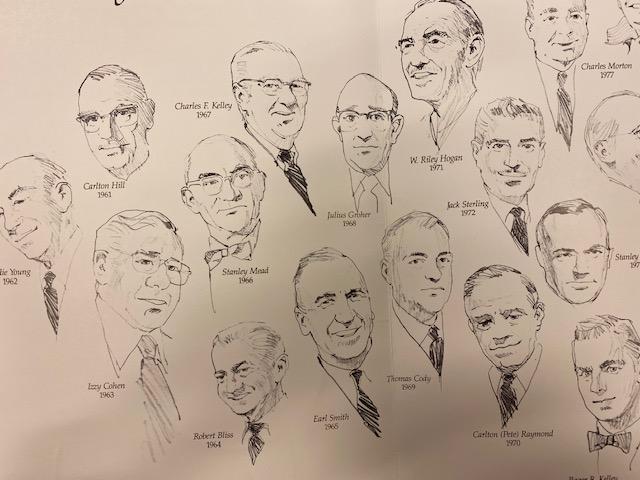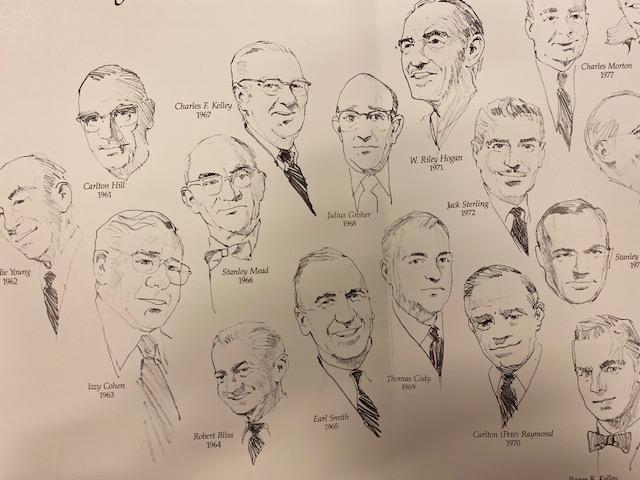 At the Rotary Club meeting this week, I had the pleasure of sharing a lunch table with Greg Sages, Executive Director of the Glass House, the landscape architect Keith Simpson, and Bill Walbert, former Town Council Chairman and managing member of Walbert Capital Management. The conversation turned to the Gridiron Club, and both Keith and Bill acknowledged that they had been roasted as the "Fall Guy" in years past.
All I knew about the club was that the New Canaan Museum & Historical Society houses a large file cabinet of records pertaining to each of the annual dinners, and that the original Gridiron Club was a prestigious journalists' club in Washington, D.C. that had been founded in 1885.
So I asked the obvious question: what was the history of the Gridiron in New Canaan?
Bill explained to me that back in the late 50s and early 60s, there had been considerable animosity between commuters and non-commuters over access to the Train Station. Traffic was terrible through Town, and commuters complained vociferously. The proposed Cherry Street extension, or "circle route," as a solution to this congestion, had pitted these groups against one another because local businesses along Main Street would be demolished to make way for the new road. As newspaper articles from 1953-1961 make clear, the process of acquiring the properties, including S.B. Hoyt's Main Street Florist, was a lengthy one with at least two lawsuits filed against the Town to prevent it from taking the necessary land by "condemnation."
In the midst of this animosity, in December 1960, Robert L. Bliss, a State Senator and Chairman of the Republican Town Committee, had the idea to form the Gridiron Club of New Canaan with an annual mid-winter stag event to honor one of New Canaan's leaders. He invited 140 men in New Canaan to dinner at the Country Club of New Canaan. In that invitation, he wrote: "[A]ll year long – year after year- we are segmented, organized, re-organized, divided, split, grouped and regrouped. We pull and haul ourselves along in civic, partisan, emotional, business, social, and political lines. We operate as ridgerunners and natives, town and gown, old timers and newcomers – you name it. Why not have a Gridiron Dinner – a stag event comprising some of the town's active leaders – where we could stage some skits, have some laughs with and at ourselves – get to know and understand each other better – all in the interest of an ongoing New Canaan?"
124 men and 9 guests attended the first dinner.
The cost was $8, which included two drinks per person, the meal, and a contribution toward a Tiffany silver tray which was presented to Carlton Hill, the first honoree, or "Fall Guy." Mr. Hill had been the editor of the Advertiser for 14 years and, that year, left to run the Milford Citizen.
The annual dinner – and its fabulous productions exploring the lives and secrets of its honorees – has continued since 1961. Once selected, members of the Gridiron Club interview wives, former girlfriends, college roommates, neighbors, and enemies to dig up stories about the designated Fall Guy. This material gets turned into a musical performance, apparently worthy of Broadway. Notable "Fall Guys" have included (in addition to Bill and Keith), Don Hersam, Mike and Scott Hobbs, Leo Karl, III, Laszlo Papp, Joe Rucci, and twins Bailey and Richard Stewart, who were honored together. And I am happy to report that women are now members.
Who knew all this effort and community spirit arose from a traffic issue? I wish every lemon could become such joy-filled lemonade.
Warmly,
Nancy Geary
Executive Director