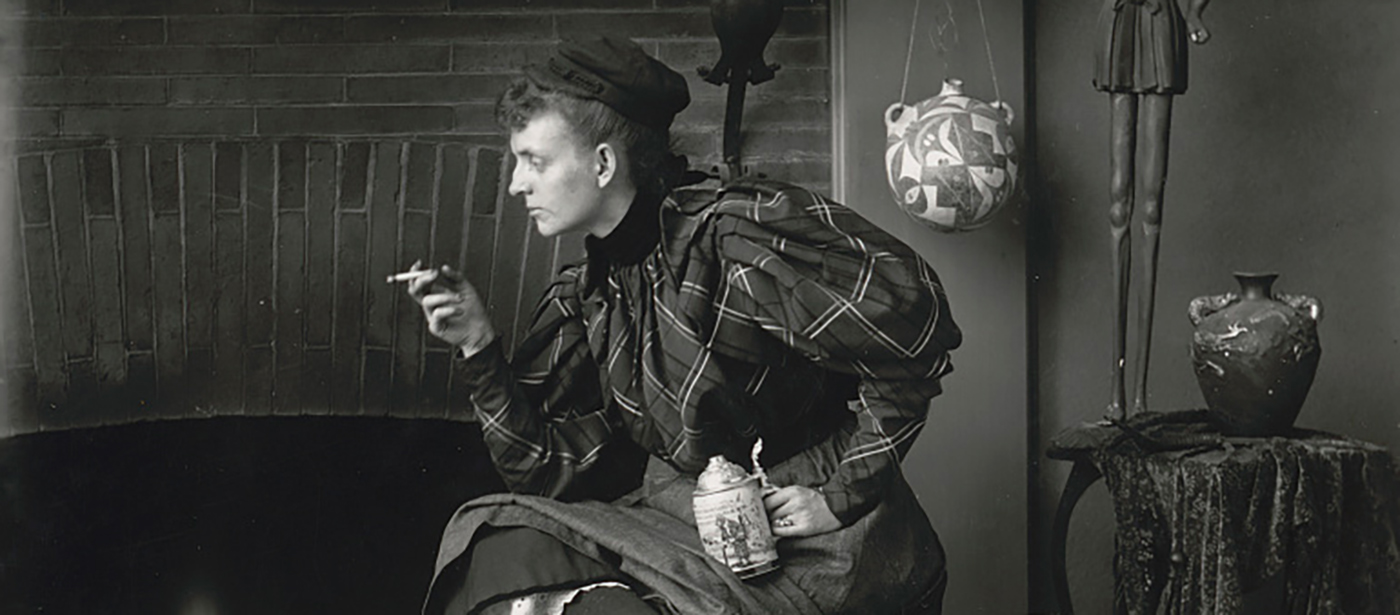 What a Woman Can Do with a Camera:
Frances Benjamin Johnston and Her Contemporaries
BRIDGING OLD AND NEW
The Life and Photography of Frances Benjamin Johnston
The story of Frances Benjamin Johnston (1864–1952) in some way mirrors the story of Waveny—one of adapting to cultural change by knowing how to change with it. Johnston's life spanned the fight for woman's suffrage, Reconstruction, the Depression, and two world wars. In 1915, when she came to New Canaan to photograph Antoinette Lapham's garden, Johnston was fifty-one years old and critically acclaimed, a fine body of work behind her with much left to go. It was most likely artists Albert and Adele Herter who recommended her for the commission. Johnston had photographed the Herter house and garden in East Hampton for Country Life in 1913. Their firm, Herter Looms, created the 1912 tapestry above the fireplace in the dining room and the wallpaper in the main hall of Waveny House.
By then a leader in architecture and garden photography as well as a rising star on the garden lecture circuit, Johnston was also sought after for her portraiture and photojournalism. Academically trained in painting and drawing, her shots were classically configured yet fresh, engaging. Those who sat before her lens were often elite and influential, the scenes she documented timely and unusual. Her eye for composition and ear for a story kept her in demand, yet people took as much notice of her skill and professionalism as they did her panache and independence. Her work and the way she lived her life truly bridged old and new worlds.
Born in 1864 to father Anderson Doniphan Johnston, who worked for the Treasury Department, and mother Frances Antoinette Benjamin Johnston, a journalist for the Baltimore Sun, young Frances grew up at the center of federal power and would later exploit her access to the social and political elite in order to advance her career. Johnston's education was broad and surprisingly serious for the time. Thanks to the example of her mother, a respected writer who never doubted her equality to men, Johnston took it for granted that she could live life on her own terms—despite the fact that for much of her life women could not even vote. When she decided to train as an artist, her family sent her to the Académie Julian in Paris (women couldn't attend the École des Beaux-Arts). Not one to miss a party, she happily participated in the school's rollicking social life as she remained unmoved by the new Impressionist style that was sweeping the art scene. The drinking-smoking-petticoat-baring Johnston favored the traditional style, a seemingly antithetical combination she forever worked to best effect.1
Ambitious and driven, Johnston's determination to be taken seriously was as great as her desire to earn a living. Following her studies in Paris and a stint at the Washington Art Students League, her career began as magazines were booming. Technological advances—first dry plates and then film—allowed photography to surge ahead of illustration as the chosen pictorial medium. Though Johnston initially produced illustrations for magazines, she saw that the camera was becoming king. George Eastman, founder of Kodak, was a family friend. Johnston wrote to him expressing her curiosity about cameras and he replied by sending her one. Photography was in its early days as a profession in the 1880s, and Johnston was getting in on the ground floor.
She promoted photography as a great career for women, writing an article for Ladies' Home Journal titled, "What a Woman Can Do with a Camera." Indeed, she was in good company. Prominent women photographers included photojournalist Jesse Tarbox Beals; portraitist Saida Ben-Yúsuf; Johnston's friend Gertrude Käsebier; and the Gerhard Sisters, Emme and Mayme, who pushed for photography to be considered art, not just documentation. But Johnston wasn't cowed by photography's place in the art world hierarchy, nor was she discouraged when photographer and art world doyen Alfred Stieglitz pooh-poohed her work as "commercial." She simply got on with it, embracing commercial work to support herself while making her images the best they could be. While she was photographing subjects, she listened for what would be most interesting to readers. As she sold her pictures, she began selling the captivating stories that went along with them. The text, however, was only meant to boost her earning potential; Johnston always maintained that her pictures told the story.
With help from her family, she opened her own studio in Washington, D.C. in the mid-1890s. Demorest's Family Magazine and Ladies' Home Journal published some of her early documentary images as she concurrently shot portraits of such prominent, influential figures as President Theodore Roosevelt, educator and reformer Booker T. Washington, and suffragist Susan B. Anthony. Excelling at self-promotion, she used these contacts to nab more commissions. It was TR who penned a quick note of introduction to Admiral George Dewey to get Johnston on board the U.S.S. Olympia, where she captured sailors at work and ease. In addition to photographing four administrations, Johnston parlayed her entree to the "hidden" White House by selling photos of White House interiors as souvenirs.2
Booker T. Washington's iconic portrait led to an important commission for both photographer and subject. Washington wanted to convey the significance of the work taking place at his Tuskegee Institute, an academic and vocational school he founded to train Black teachers. Johnston's images portrayed the seriousness of Tuskegee's endeavor and aided in attracting donors to the cause. Earlier, she had similarly photographed the Hampton Institute, from which Washington had graduated, and D.C.-area schools to show advances in public education. Her images of Tuskegee, Hampton, and the public schools exude gravitas and refinement. Johnston would always flit at the edges of progressive politics, yet it's plain to see how much she relished those assignments and admired their principles. Lacking examples of overt political action on her part, it may be that here again her work did the talking. She moved easily and approvingly among innovators and the reform-minded; as with gender, Johnston appeared to take racial equality for granted. Still, it was her striving to produce strong work and capacity for reinvention that took precedence over everything else.
Enterprising instincts and a nose for change led her to architectural and landscape photography. This next move was perhaps sparked by her work in 1892 in Chicago, where the World's Columbian Exposition magnificently embodied the Beaux Arts city. Renaissance-like photographs by the fair's chief photographer Charles Dudley Arnold influenced Johnston, as did the ideas advanced there by architects and designers who equated the classical ideal with civic and moral virtue. Taking form as the City Beautiful movement, this philosophy of urban renewal through beautification had a profound effect on architecture, planning, and design. Promulgators included landscape architect Frederick Law Olmsted and architect Charles McKim, and in the next generation the Olmsted Brothers and architect John Carrère. City Beautiful struck the right note with Johnston; it kept her rooted in the classical tradition as it catalyzed progress, allowed her to move among upper-class patrons while crusading for reform.
The shift to photographing houses and gardens of the wealthy also capitalized on the early-twentieth-century trend in estate building and suburban development. Teeming cities were shedding upper- and middle-class residents who sought greener surroundings.4 Johnston's interiors of this time are well constructed and charming, but it is the architecture and garden images that really shine. Having learned through portraiture to project a desired image, her painterly style and fine composition capture the character of a building, the feeling of a garden—even those shot in black and white. There is a narrative quality to them, a sense of story and texture revealed in images as diverse as the famed "Gray Gardens" in Long Island's East Hampton (later owned by Edith Bouvier Beale) and the urban garden of a janitor's apartment in Manhattan.
When Johnston began shooting gardens, photographers weren't credited for their images.5 A prize-winning garden photograph meant that the subject had won the prize, not the image. Undaunted, she pressed on and seized the chance to become an early practitioner of the autochrome color process, learning from her friend, Antoine Lumière, who with his brother had patented the process in 1903. She began with autochrome and later, with business partner and lover Mattie Edwards Hewitt, had colorists produce hand-painted lantern slides based on her notes. Hewitt, also a photographer, worked in the darkroom and took a subservient role to Johnston, whom she admired and adored. The two lived together beginning in 1909, established their business in 1913, and ended their personal and professional relationship in 1917. It appears that Johnston neither spoke openly about lesbianism nor hid the relationship with Hewitt. She was characteristically nonchalant, while Hewitt's passionate letters to her express more ardently amorous feelings.
By this point Johnston was not only photographing gardens but also speaking publicly about them. She gave lantern slide lectures to garden clubs and organizations all over the country about color, aesthetics, the relationship between architecture and the garden. She was educated, worldly, could pepper her talks with references to art and literature. Her cultivated audiences liked her gentility and dash of bohemian flair. In his fine book compiling Johnston's garden photography, historian Sam Watters describes a lecture in which Johnston said that every property homeowner "had a responsibility . . . to beautify their yard, no matter how small." To drive the point home, she went on to quote Ruskin: "Sir, the exterior of your house is not private property!"6 Just as City Beautiful advocated urban renewal through beautification, Johnston fervently preached the Garden Beautiful—social progress through garden design. She traveled tirelessly, engaging audiences in the East with images of gardens out West and vice versa, feeding their appetite for the unusual and exotic. Along the way, commissions to shoot private houses and gardens for magazines were accommodated.
Yet another turning point would come in 1927, when Johnston headed south to photograph gardens and fell in love—with the South itself. After the Stock Market crash in 1929, showy displays of wealth fell out of favor. Johnston turned to historic preservation, securing grants from the Carnegie Corporation to photograph architecture of the American South before it was too late. With so many buildings in disrepair and others soon to be demolished, historic preservation was as popular with women's clubs as gardens had been. Johnston used her membership in the D.A.R. to network with the patriotic Southern set, even though in the 1930s and 1940s she worked closely with her driver and assistant Huntley Ruff, who was African American. We imagine them on a job site together, Johnston floating through bigotry on a raft of oblivious privilege, her respect and fondness for Ruff as a colleague raising eyebrows without actually disturbing the status quo. She expressed her devotion to Ruff by bequeathing him money in her will, even as she left out some of her oldest friends.
Many more grants, assignments, talks, and even exhibitions—including a major show at the Smithsonian in 1937—followed. She photographed estates and institutional buildings, dovecotes and sheds all over the South, creating 7500 negatives that brought important attention to preservation. In her far-ranging biography of Johnston, Bettina Berch writes that she was highly respected for researching historic structures herself, and also for photographing buildings in a way that historians and artists equally appreciated.7 The irrepressible Johnston spoke about preservation to her customarily cultivated audiences, and also to ordinary people whom she felt needed to be convinced of preservation's value.
WWII gas rationing was affecting her ability to reach historic sites, and Huntley Ruff was called away to active duty. Now in her seventies, a still-active Johnston began planning for old age. Throughout her life there had been numerous business schemes that hadn't materialized: photographing rich passengers on transatlantic ships, shooting movie stills in Hollywood for upscale home décor, leading garden tours in Europe. She was well paid for her preservation work, yet still sold salvaged architectural details on the side. In 1945, Johnston put down roots by buying and renovating an old house in New Orleans' French Quarter. The garbage-filled courtyard in back was cleared to make her first-ever garden, complete with a water feature. She who had photographed so many landscapes, who had proselytized for the civilizing effects of gardens, now finally had one of her own. The ground floor contained an apartment and darkroom for herself, with two more apartments above for rental income.
Before her death, Johnston organized her archive for the Library of Congress, constructing her legacy as carefully as her photographs and public persona. Browsing through her extensive collection, I am struck by the quality and scope of it, by the "sweep and amplitude of the great artist's stroke."8 Johnston's photographs, always notable and sometimes sublime, borne of ambition and tireless reinvention, tell many stories: about people and their intentions, about the ennobling ideals of buildings and nature, and also about Johnston herself. She was fifty-six in 1920, when women claimed the right to vote with the ratification of the Nineteenth Amendment. The suffragists fought a long, tenacious, ugly battle, and for them as well as for Johnston, failure was not an option. This is the part of the story that feels more prosaic: as a woman, her struggle for self-determination, the perpetual effort to stay one step ahead, her way of just getting on with it. Born during the Civil War and deceased after the introduction of television, Johnston navigated overwhelming cultural change to build a bridge over which other women crossed, and leaves us a trove of images that pay tribute to people, places, and ideas worthy of our consideration.
1 Victoria Olsen, "Victorian Womanhood, in All Its Guises." Smithsonian Magazine, May 2010.
2 For a selection of images from this series see White House Historical Association at www.whitehousehistory.org, under Frances Benjamin Johnston.
3 Sarah Bassnett traces the conceptual arc and racist aspects of this body of work in "From Public Relations to Art: Exhibiting Frances Benjamin ]ohnston's Hampton Institute," History of Photography, vol. 32, no. 2, Summer 2008. From public relations to art to artist Carrie Mae Weems's critique "of education generally, and a Hampton education specifically, in turn-of-the-century attempts to assimilate African Americans and Native Americans."
4 Witold Rybczynski, City Life (New York: Touchstone, 1995).
5 Leah Binkovitz, "Frances Benjamin Johnston's Garden Legacy: New Finds from the Archives." Smithsonian Magazine, August 7, 2012.
6 Sam Watters, Gardens for a Beautiful America 1895–1935 (New York: Acanthus Press, 2012), 26.
7 Bettina Berch, The Woman behind the Lens: The Life and Work of Frances Benjamin Johnston 1864–1952 (Charlottesville and London: The University of Virginia Press, 2000), 123.
8 In House of Mirth, Edith Wharton describes Lily Bart's few remaining dresses from tonier times, that while worn out in them one can still see the "sweep and amplitude of the great artist's stroke." FBJ visited Wharton in France at Pavillon Colombe, her villa outside Paris in 1925, and photographed her garden terrace.
ALL FBJ IMAGES ARE REPRODUCED COURTESY LIBRARY OF CONGRESS, PRINTS & PHOTOGRAPHS DIVISION.