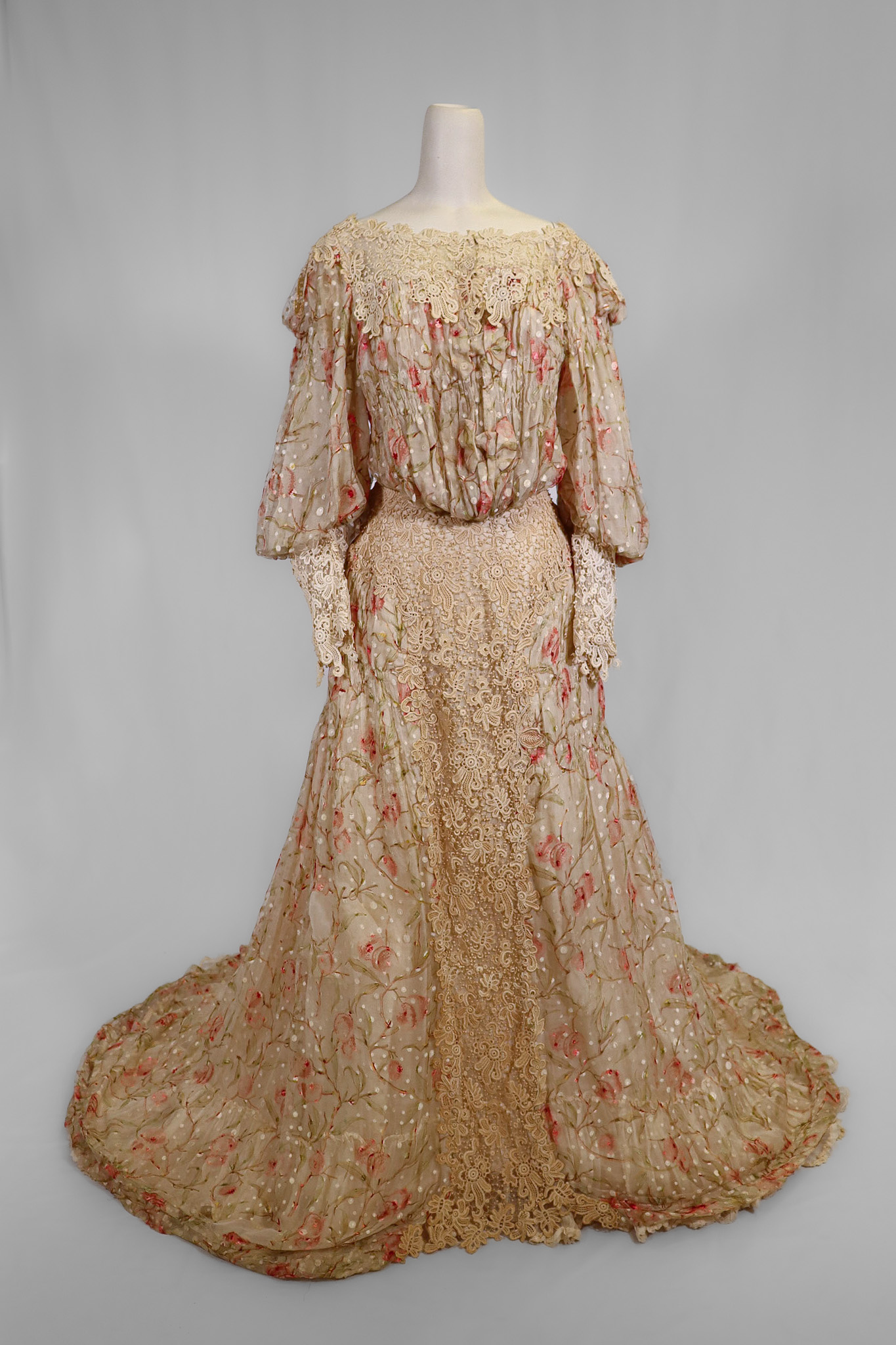 Delicate Flowered Chiffon Afternoon Dress with Lace Detailing c. 1904s
This dress was donated to our museum in the 1960s by the New Canaan Town Players. No further information can be found on the origins of the dress. The makers label on the interior reads "Cecilia Greiff New York". 
The delicate floral chiffon dress can be dated back to 1904 and is made of a separate bodice and skirt. The bodice features the signature "pigeon-breast" silhouette popular at the turn of the century. Extending from the shoulders are enormous bishop sleeves, reaching their apex at the elbow and tapering delicately at the wrist, with cuffs covered in lace to match the neck and waistline. 
Noteworthy points to focus on when looking at fashions from 1904 is that the daywear and eveningwear were very similar, and often only differentiated by the types of trimming and numerous folds employed on and around the dress. It is possible that this dress was worn in the afternoon, due to the combination of a wide neckline and long, wrist-length sleeves. Exquisite skirts of thin material that draped elegantly down to the floor were popular – clinging textiles being the most highly sought after. 
The dress is made of two layers of thin chiffon over top of a silk under layer. The top layer is embellished with a printed pattern of pink flowers and white dots. The under layer of chiffon is a plain off-white color. The lace at the waist that extends down the front of the skirt in a solid line is a popular style of decoration on Edwardian dresses from the same period. The overall effect of the decorative lace draws the eye vertically in an attempt to elongate the figure and make the wearer appear taller. The same effect was sought after in making sure the fullness of the skirts not only fell elegantly in a short train, but also pooled at the front of the gown on the floor as well.