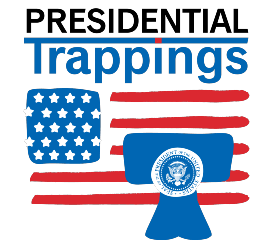 As we part with an energized election season, welcome the new year, and look towards a presidential inauguration in late-January, New Canaan Library and the New Canaan Historical Society are pleased to collaboratively present "Presidential Trappings," a series that explores the history of the many aspects of our nation's highest office. We will welcome subject experts to discuss First Ladies through the years, the history of inaugurations, presidential libraries, and ballot design on Tuesday evenings in January.
First Ladies
January 5 @ 7:00 pm – 8:00 pm
Professor of History at Ohio University, Katherine Jellison, will present an overview of the role of U.S. first ladies from 1789 to the present. Attendees will learn about first ladies through the years and the four major categories they fall into—the celebrity, the controversial first lady, the reluctant first lady, and the political partner.
Presidential Inaugurations
January 12 @ 7:00 pm – 8:00 pm
In this lecture, Ronald Schurin, PhD, Associate Professor in Residence in the Department of Political Science at the University of Connecticut, will examine the four categories that our 62 inaugurations fit into– ritual of orderly transition, moment of reassurance, sign of dramatic change—or something else?
Presidential Libraries
January 19 @ 7:00 pm – 8:00 pm
Presidential Libraries are hallowed halls and invaluable museums of our collective history. Jeffrey Urbin, Education Specialist, presents The Roosevelt Presidential Library and Museum: Presidential Papers and the National Archives. His in-depth discussion will cover the famous Roosevelt Presidential Library (the nation's first Presidential Library), as well as the history of the Presidential Library System in general.
The Art of Ballot Design throughout History
January 26 @ 7:00 pm – 8:00 pm
The humble ballot has a long and storied history, and has, in fact, not always been so humble in design. Author and graphic designer Alicia Yin Cheng will discuss her recently published book, This is What Democracy Looked Like: A Visual History of the Printed Ballot, which illuminates the noble but often flawed process at the heart of democracy.