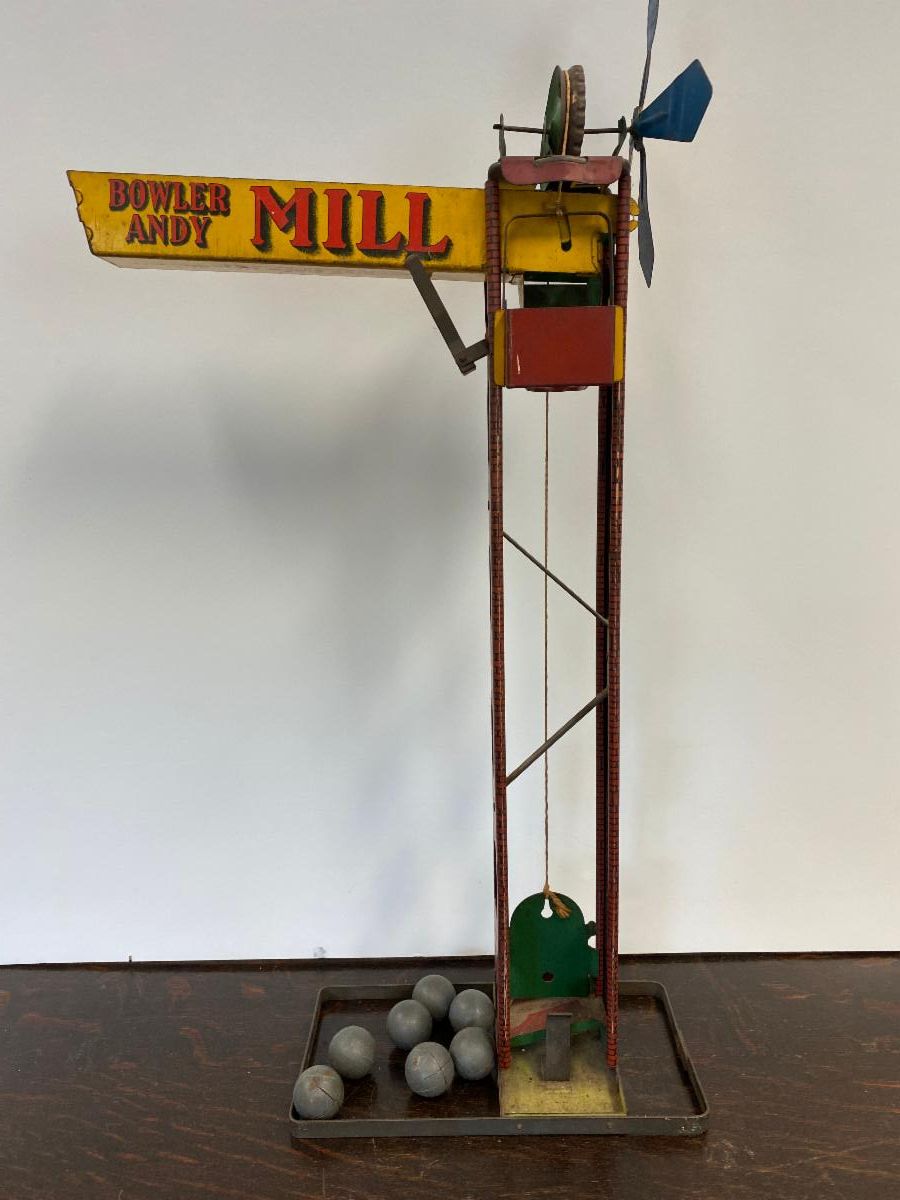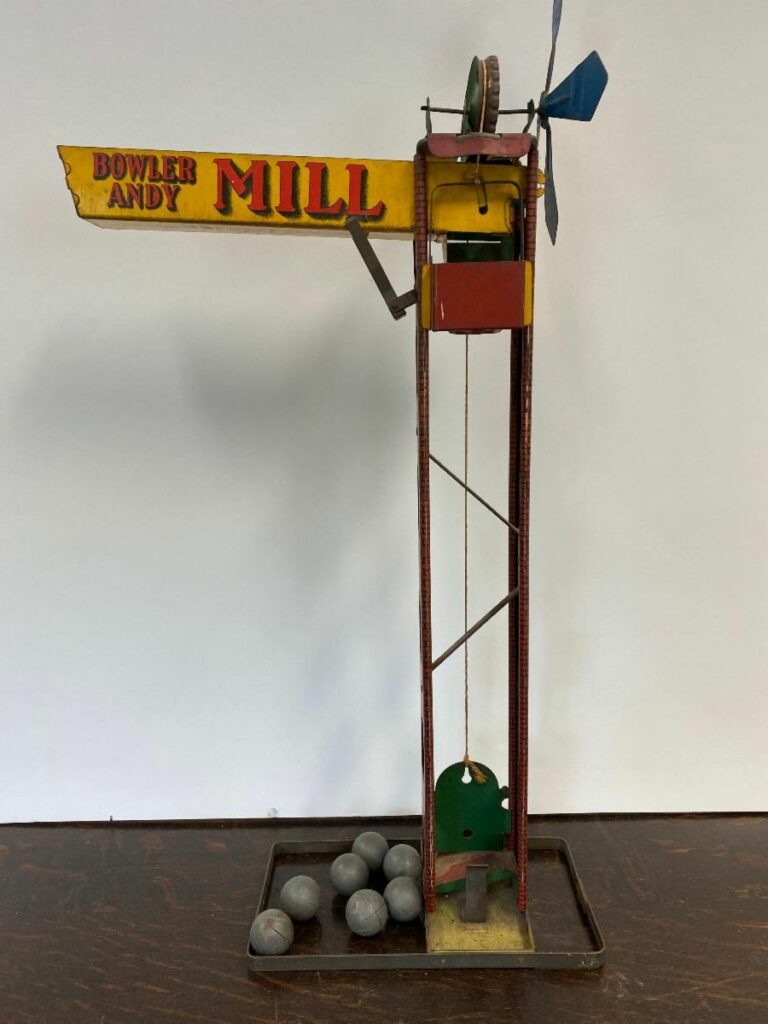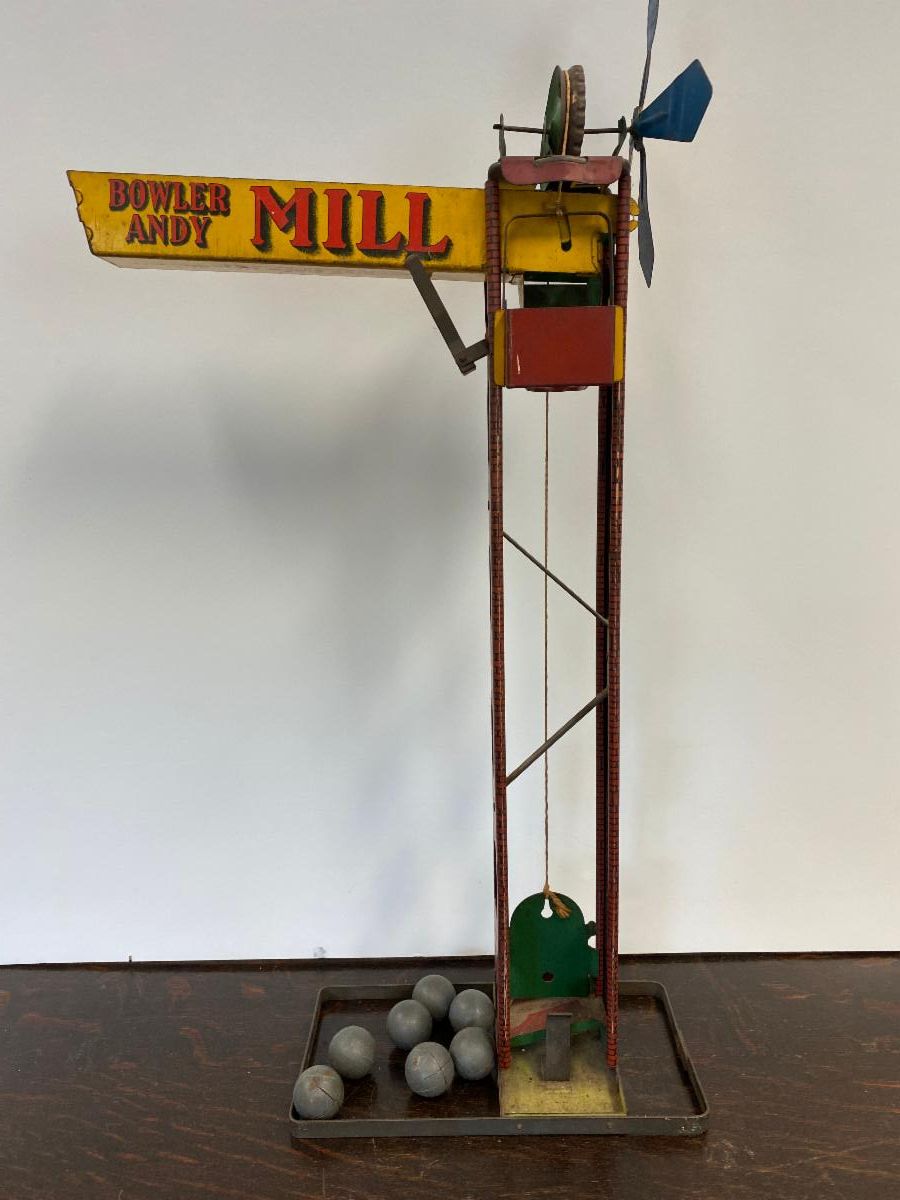 Otis Carroll, son of the late Ruth Ogden Carroll, recently invited me to the family's home to discuss documents, photographs, and other of her personal effects that might be archived at the New Canaan Museum & Historical Society. When we were down in the basement, he showed me this fantastic tin toy – The Bowler Andy Mill with a patent from 1918. Designed like a mill grain elevator, the elevator car runs up and down its shaft when one of the .75″ metal balls drops into the chute. When the weight builds up enough, the gravity mechanism activates and the car slides down to drop off the bearings one by one, and returns to the top to pick up the next one, as the windmill blade turns. I tried it over and over again and marveled at the technology. Otis told me, as a child, he played with it for hours.
This Bowler Andy Mill toy was manufactured by The Wolverine Supply & Manufacturing Company. Founded in Pittsburgh in 1903 by Benjamin F. Bain and incorporated in 1906, Wolverine designed and manufactured household utensils and broom holders, as well as the tools and dies to make them. In its original headquarters in downtown Pittsburgh, Bain began his toy business, which later expanded to a three-story toy factory built on the same property. The line of sturdy mechanical tin (or pressed steel) construction-type toys were eventually sold in major department and toy stores across the country. At its height, Wolverine employed 450 people in its toy business.
Although Wolverine's original toys were all sand-operated, it later produced toys that were marble-powered by either aggie or steel balls. (This mill has steel.) Eventually, the company added vehicles such as trains, streetcars, boats, trucks, and cars that were all powered by a unique patented spring powered motor. Within a few years Wolverine developed various manual and mechanical tin game boards, as well as what were referred to as "Girl Toys" such as stoves, refrigerators, sinks, cupboards, washing machines, and furniture. These toys trace the history of vehicle and appliance design over the years.
Spang Industries of Butler, PA purchased Wolverine in 1968, and in 1971 moved all operations to Booneville, Arkansas. In 1986 the name was changed to "Today's Kids." But the original building still stands with remnants of the "Wolverine Supply & Mfg. Co." name and the large word "TOYS" visible on the building.
The Carroll family gift of the Bowler Andy Mill is now the newest addition to the NCM&HS's toy collection. Come play!
Warm Regards,
Nancy Geary
Executive Director