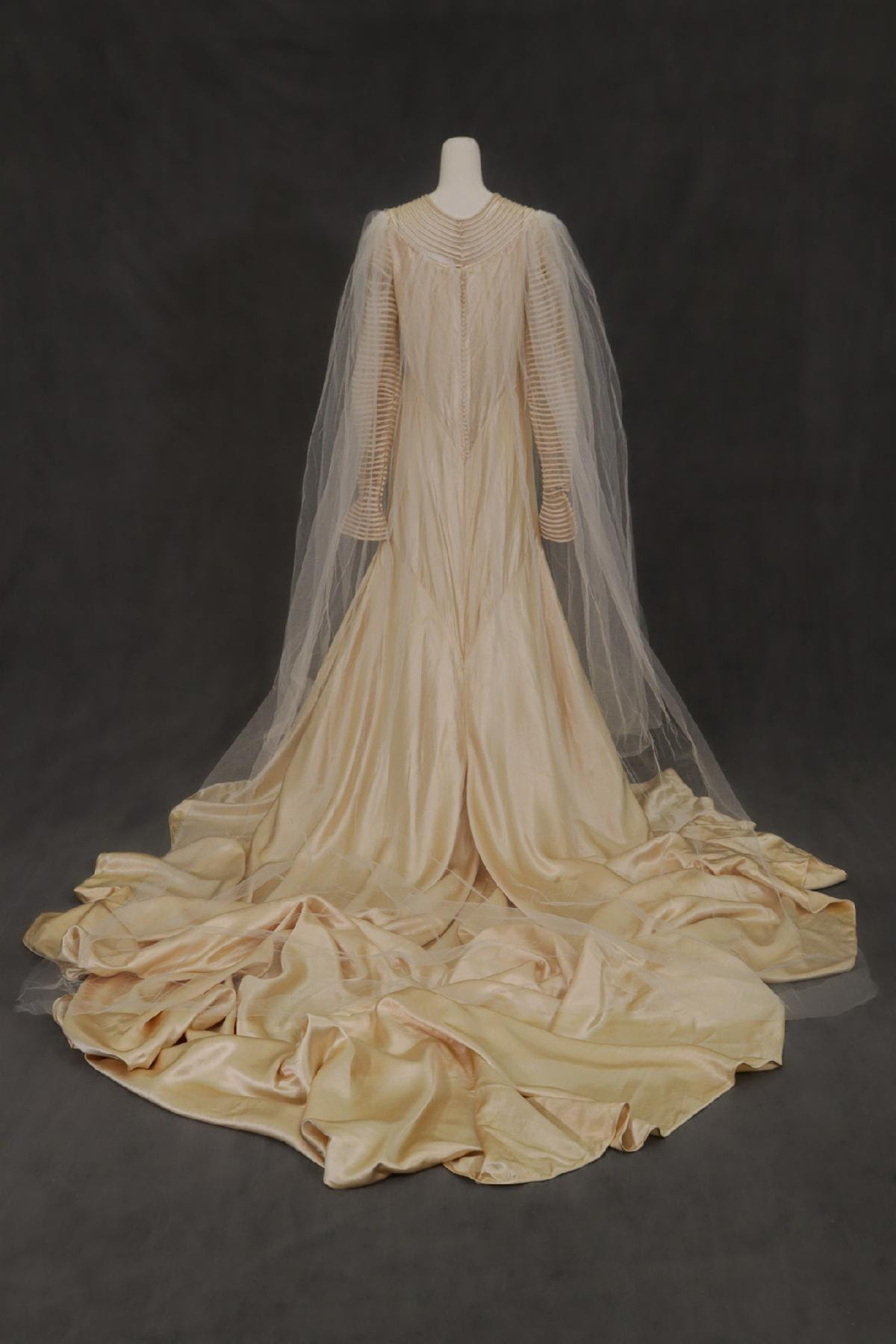 Clothing and Textiles: Bias-Cut Silk Wedding Gown with Six-Foot Train from the 1930s
This gown was worn by Elizabeth Wells on her wedding day to Heywood Fox in September 1934. The couple moved to New Canaan and raised their children in a house on Smith Ridge Road. The gown was donated by Mrs. Heywood Fox in 1977.
The body of the dress is made of bias-cut silk with a six-foot train. The wrist-length sleeves are a unique design featuring bands of piped-silk wrapped around a foundation of tulle to create a sheer, striped effect also seen at the neckline of the dress. Delicate tulle extends from the shoulders and back of the dress like a cape. Due to the delicate nature of this tulle, in addition to minor tears on the silk skirt, it was not possible to display this gown on a mannequin for the duration of the current exhibit "I Do: The History of Wedding Fashion & Tradition." However, the gown was photographed extensively and included in a virtual aspect of the exhibit so that it can be viewed by the public in a safe manner.
The label of the dress identifies Hattie Carnegie as the designer. Henrietta Kanengeiser was born into a poor Jewish family in Vienna, Austria-Hungary in 1886. Her family immigrated to New York City at the turn of the century, where she took a job as a messenger at Macy's. By her early 20s, Hattie had changed her name to Carnegie as an homage to Andrew Carnegie, the richest person in the United States at the time. In 1909 Hattie launched a hat-making business with a dressmaker named Rose Roth, who left the business in 1919, leaving Hattie the sole proprietor. In 1925 Carnegie's dress-making business became successful enough for her to purchase a building off of Park Avenue. In 1928, a then-unknown Lucille Ball began working for Carnegie as an in-house model. In 1950, Carnegie was invited to design the Women's Army Corps (WAC) which remained in use for women's army uniforms until 1968.