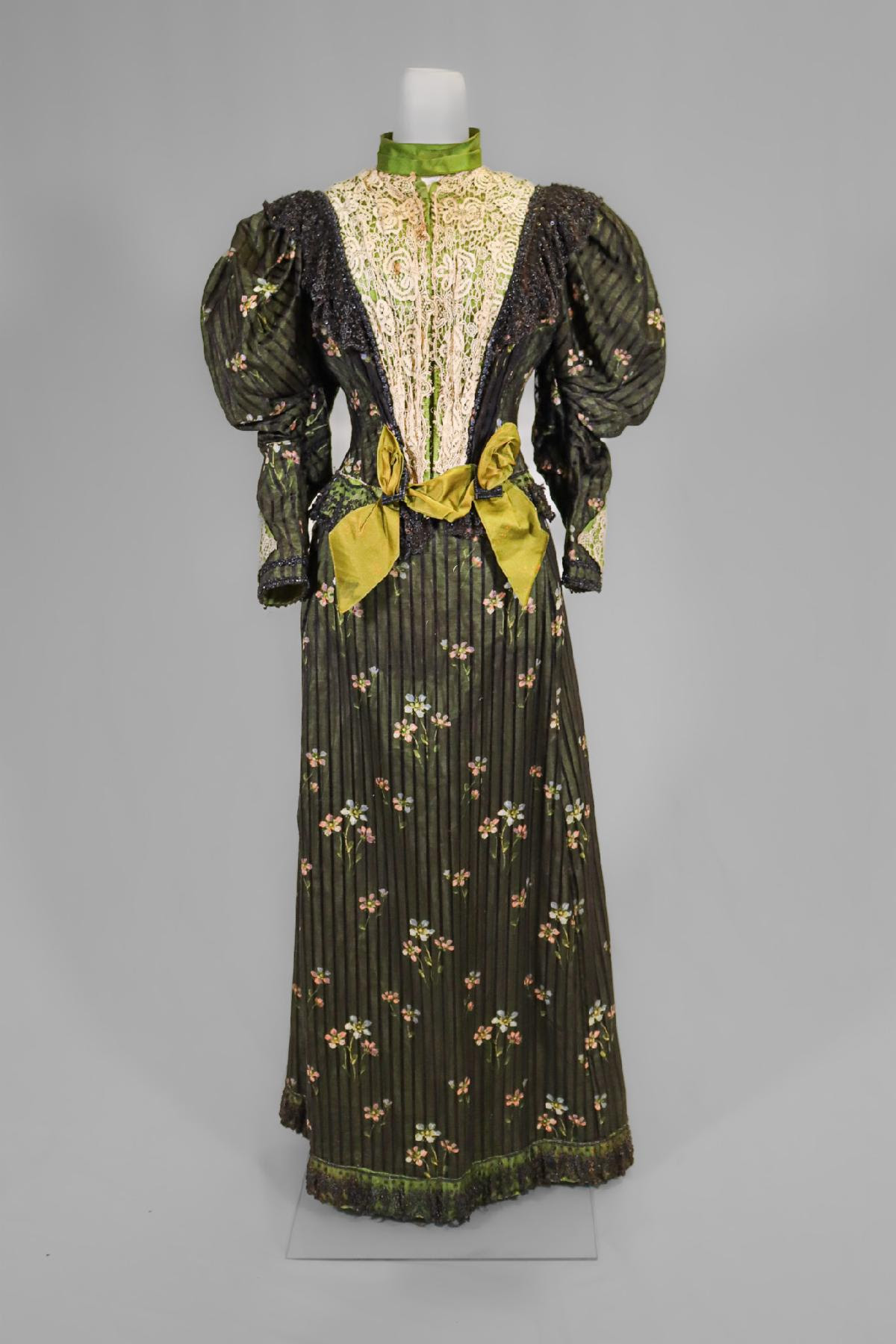 Clothing and Textiles: Edwardian Style Dress with Large Puffed Sleeves and Narrow Skirt c. 1890s
This dress was donated by Deborah Bede, who worked with the clothing collection at the New Canaan Museum & Historical Society for over 20 years. Although no additional information was provided about its owner or who wore it, the dress offers insight into the intricate designs of Edwardian fashion at the turn of the century. 
The large puffed sleeves and narrow skirt are a stunning example of women's fashion in the 1890s. The bustle silhouette of the previous decade collapsed into this slim style, which then carried into the next century. By contrast, the puffed sleeves reached an apex in size by 1895. This dress would have been worn earlier in the day due to the long sleeves and high neckline, as afternoon and evening wear tended to show off more skin at the neck, shoulders and arms. The fabric features a printed floral design, and the dress is embellished with bows on the waist at the front and back. The collar and front panel of the bodice are made of bright green fabric. 
Given the colors, this dress may have been toxic to the wearer with long exposure to the skin and lungs. Green dyes have a toxic history that stretched until after WWI, when safe and stable dyes came into use. Arsenic dyes were a popular way to achieve brightly colored clothing for much of the 19th and even into the 20th centuries. The first easily accessible green dye was created by Carl Wilhelm Scheele in 1775, made from an arsenic-derived pigment. By the mid 1860s, new synthetic dyes made from coal tar were available, although these were only marginally less toxic than arsenic and could still pose health risks. Garments in the Museum's  collection that are believed to carry such dyes are recorded and handled as delicately as possible.