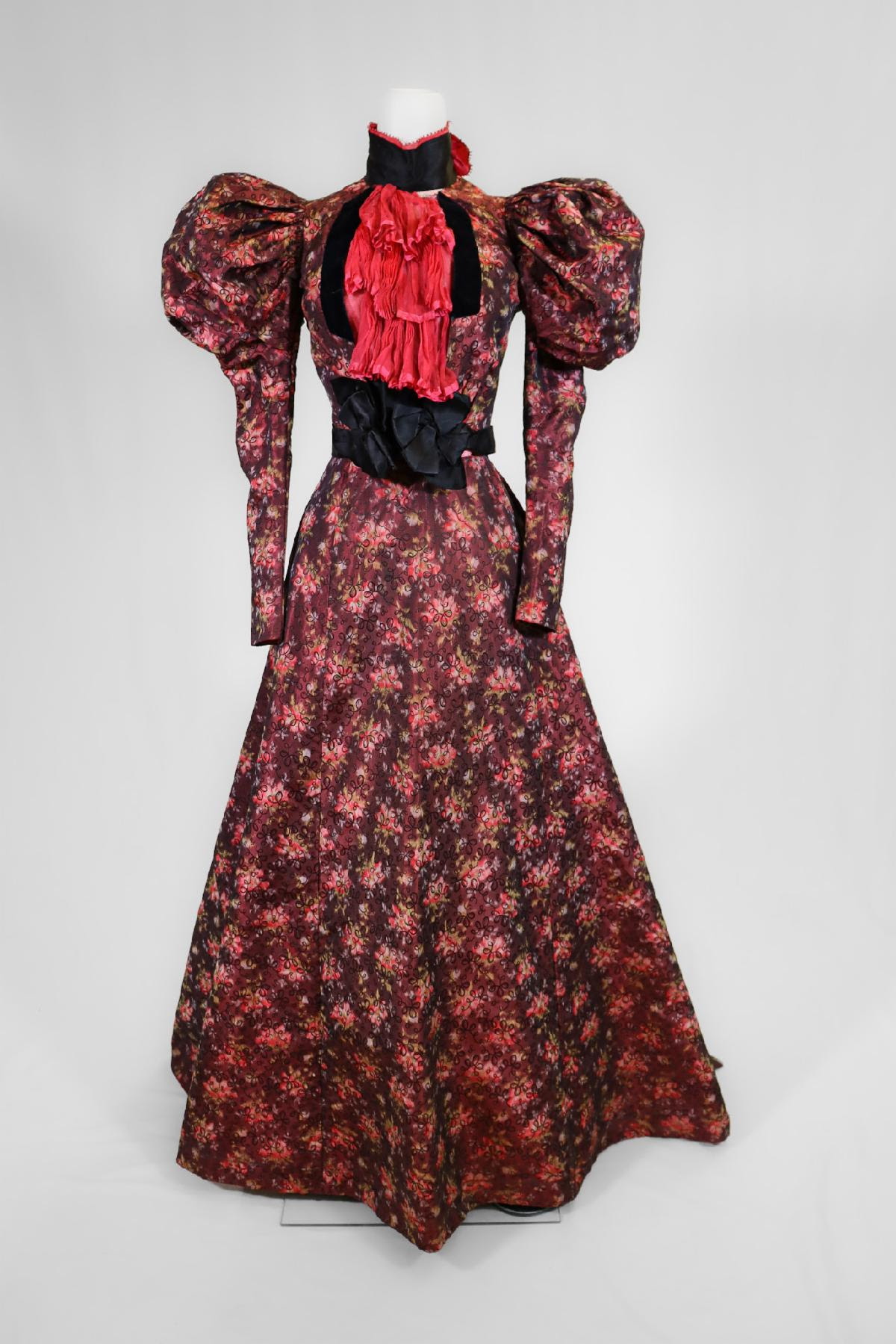 Clothing and Textiles: Silk Taffeta Flowered Dress c. 1890s
This beautiful red dress c. 1890 belonged to Amy Hostetter (1858-1941) of Pittsburgh, PA. Amy married Herbert DuPuy in 1879 and had five children. Herbert was a businessman in the steel industry and a friend of Andrew Carnegie. Together the couple was involved in many philanthropic activities, especially fundraising for the Children's Hospital in Pittsburgh.  When Herbert died, Amy donated their extensive art collection to the Carnegie Museum.  One of the pieces donated was the fan that Marie Antoinette carried to her coronation ceremony. 
According to the Museum's original records, Amy's father, David Hostetter, was the founder of Angostura Bitters. However, after additional research, it appears that he was actually the founder of Hostetter's Celebrated Bitters, which was developed around 1850 and continued through the early 1900s under the guidance of Hostetter family members. In the 1950s, the product became Hostetter's Tonic. 
The dress was donated to our museum by Amy's daughter, Mrs. Eunice DuPuy Culver, in the late 1960s.
In keeping with fashion trends in the early 1890s, the dress features enormous puffs at the shoulders. The dress itself is made from a heavy silk taffeta with a pattern of flowers and abstract swirls woven into the fabric. The front of the bodice is embellished with a bright pink chiffon ruffle that brings out the lighter pink flowers against the deeper red of the gown. The waist and neck are finished with black trim, and the neck fastenings are covered by a simple pink rosette at the back.