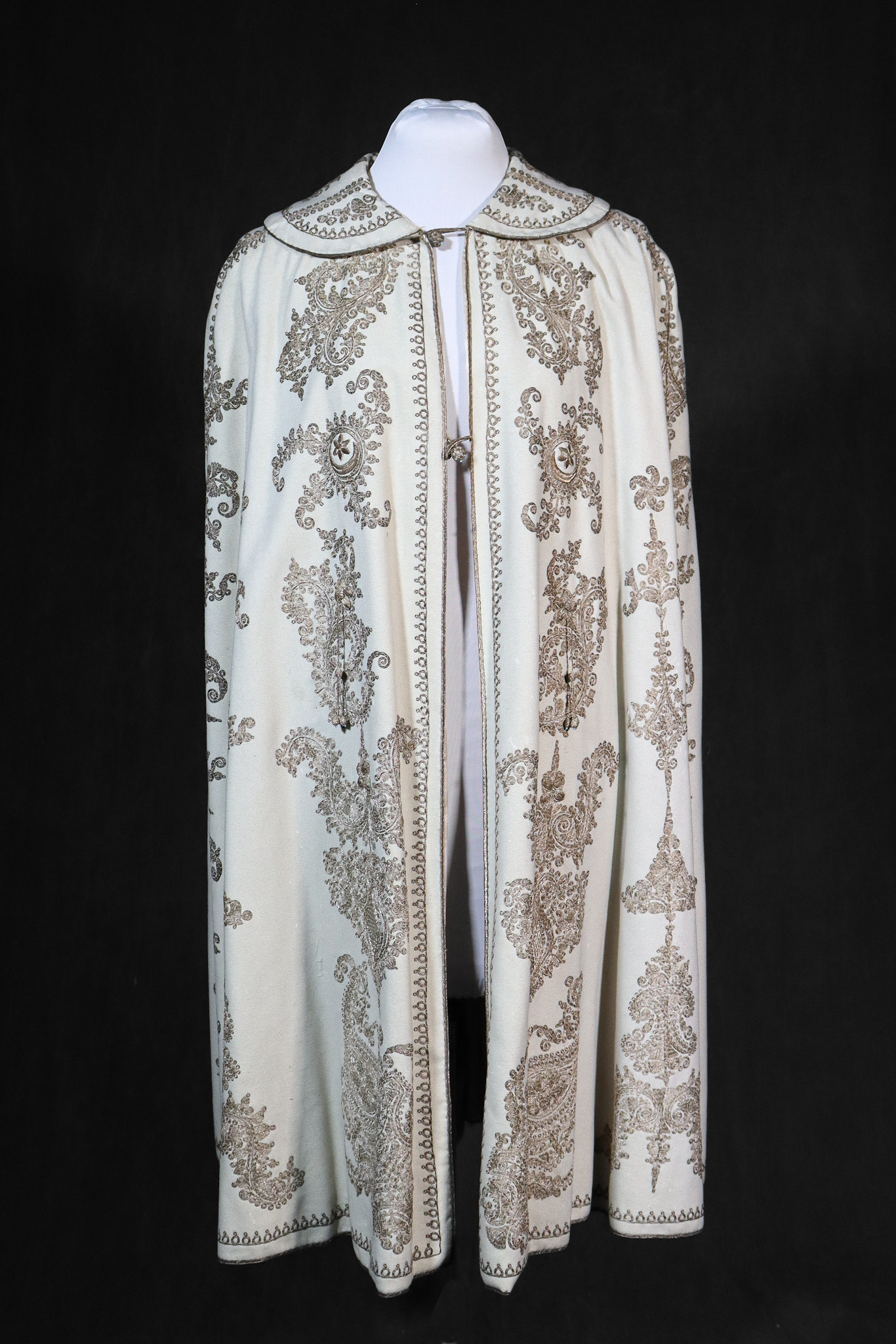 Clothing and Textiles: White Metallic Embroidered Cape c.1900s
This is a knee-length warm white cape that dates back to c. 1900. The cape was originally donated in 1975 by Marjorie McAlpin Dail (Mrs. Calvin W. Dail) of Wascussue Court, New Canaan. Marjorie married her husband, Calvin, in 1937 and their marriage was announced in the New York Times. Marjorie's grandfather, General Edwin Augustus McAlpin (1848-1917) was president of the D. H. McAlpin & Co., a tobacco manufacturer, and around 1910 built the Hotel McAlpin in New York City, at the time the largest hotel in the world. This elaborately embroidered cape most likely belonged to Marjorie's mother and was passed down through the family. 
This cape is made of "off white" doeskin, which is a term that can refer to a tightly-woven medium-weight wool fabric with a short soft nap similar to duvetyn. The interior lining has been re-lined in ivory satin, although the date of this work is unknown. The cape features an all-over design of silver embroidery in a Persian-inspired design. Scrolling Paisley (known also as Boteh Jehgeh) motifs, as well as vines, flowers and moons can be seen on the front and back of the cape's panels. The design also features tiny blue beads adorning the fasteners, as well as on the ends of the two delicate hanging pieces on the front of the cape. Similarly embroidered white capes can be found at the Metropolitan Museum of Art and the Staten Island Historical Society.
Full length coats and capes were very popular until around 1910, after which many women favored wearing a coat. Many older women however still wore cloaks and they became associated with mature fashion. Women who still adored the opulence of cloaks continued to have them made in luxurious fabrics with elaborate trims and furs. Designs were ornate and often closely aligned with art nouveau forms seen everywhere at the time. Exquisite embellishment work was particularly popular for women's capes, and such pieces illustrated how Edwardian society regarded fashion-forward ladies as social representatives of their husbands.