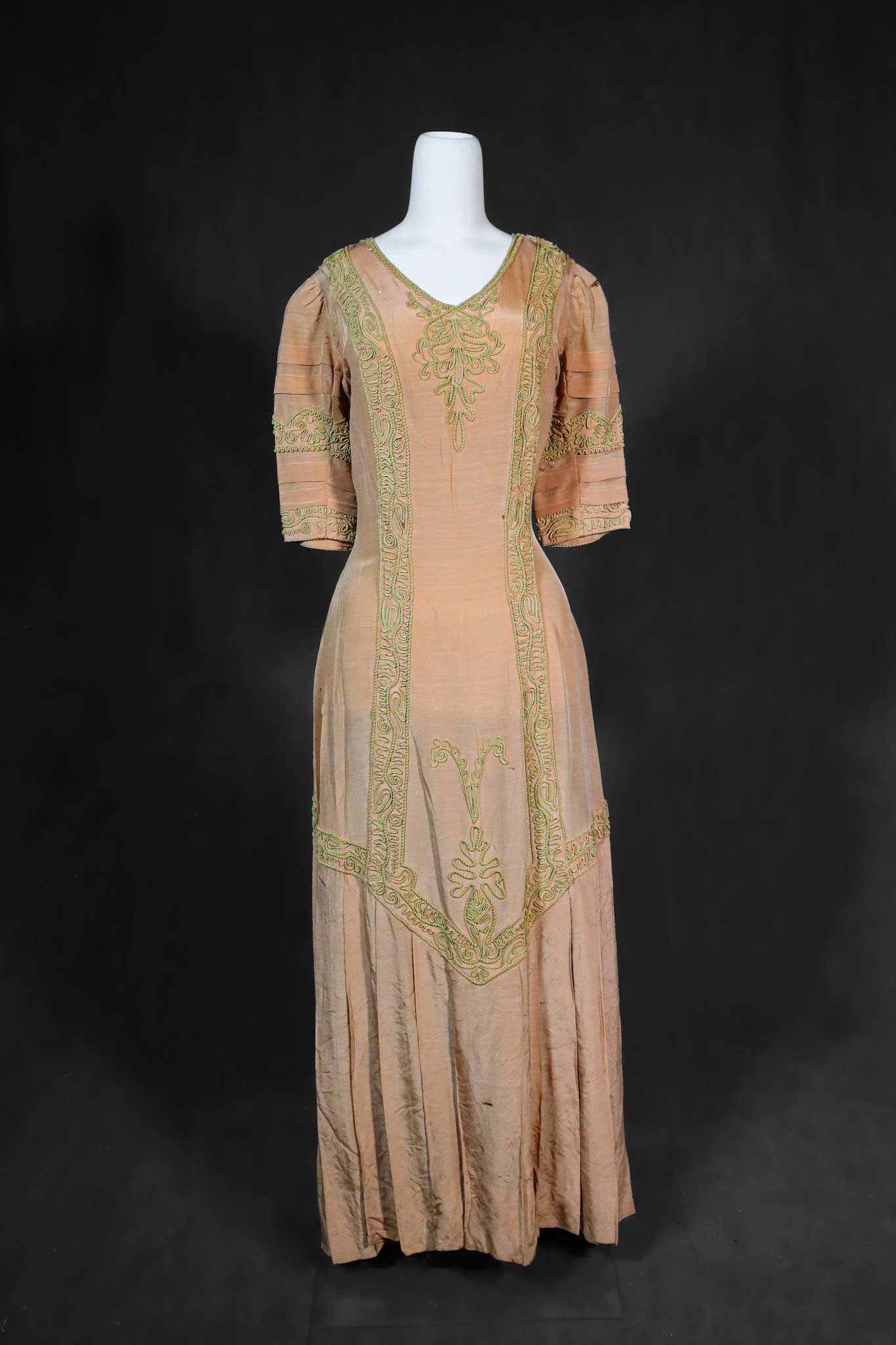 Clothing and Textiles: Peach Silk Day Dress c.1914s
This dress was donated to our museum by Kingsley Morgan (1916-1986), a longtime resident of New Canaan and wife of Henry William Morgan. Her engagement was announced in the New York Times in 1940, where it stated that she is a descendant of James Olmstead, who came to Boston from England in 1632 and helped settle what is now Cambridge, Massachusetts. The silk dress in our collection most likely belonged to her mother, Lynellen Olmstead, or mother-in-law, Mrs. Clarence Whitfield Morgan, and was kept within the family for many years.
The dress dates back to c. 1914 and is made from a peach silk with elaborate tan soutache- also known as Russian braid- embellishment and trim. The soutache extends down the front and back of the dress in vertical lines, ending at the thigh. The hem of the skirt is finished in long pleats where the braiding ends. The length of the sleeves and height of the neckline indicate that this is a day or afternoon dress. The color and weight of this peach fabric also allude to the fact that the dress was worn in warmer weather. The dress is in decent condition, however small holes have appeared on the shoulder and skirt where the silk has worn down, due to the fact that silk is extremely fragile and weakens over long periods of time. 
The simple silhouette of the dress reflects changing fashion trends in the decade as World War I dawned, introducing softer silhouettes, colors, and less embellishments on clothing. As the war progressed, women's clothes started to reflect the somber mood of war in their muted tones. The suffragette movement also had a profound impact on womenswear as fashion allowed for more freedom of movement with a lack of trains and higher hemlines. Fashion designer Paul Poiret rose to prominence in this period, and his wife had an influence on fashion as well, championing for more slim and uncorseted looks.