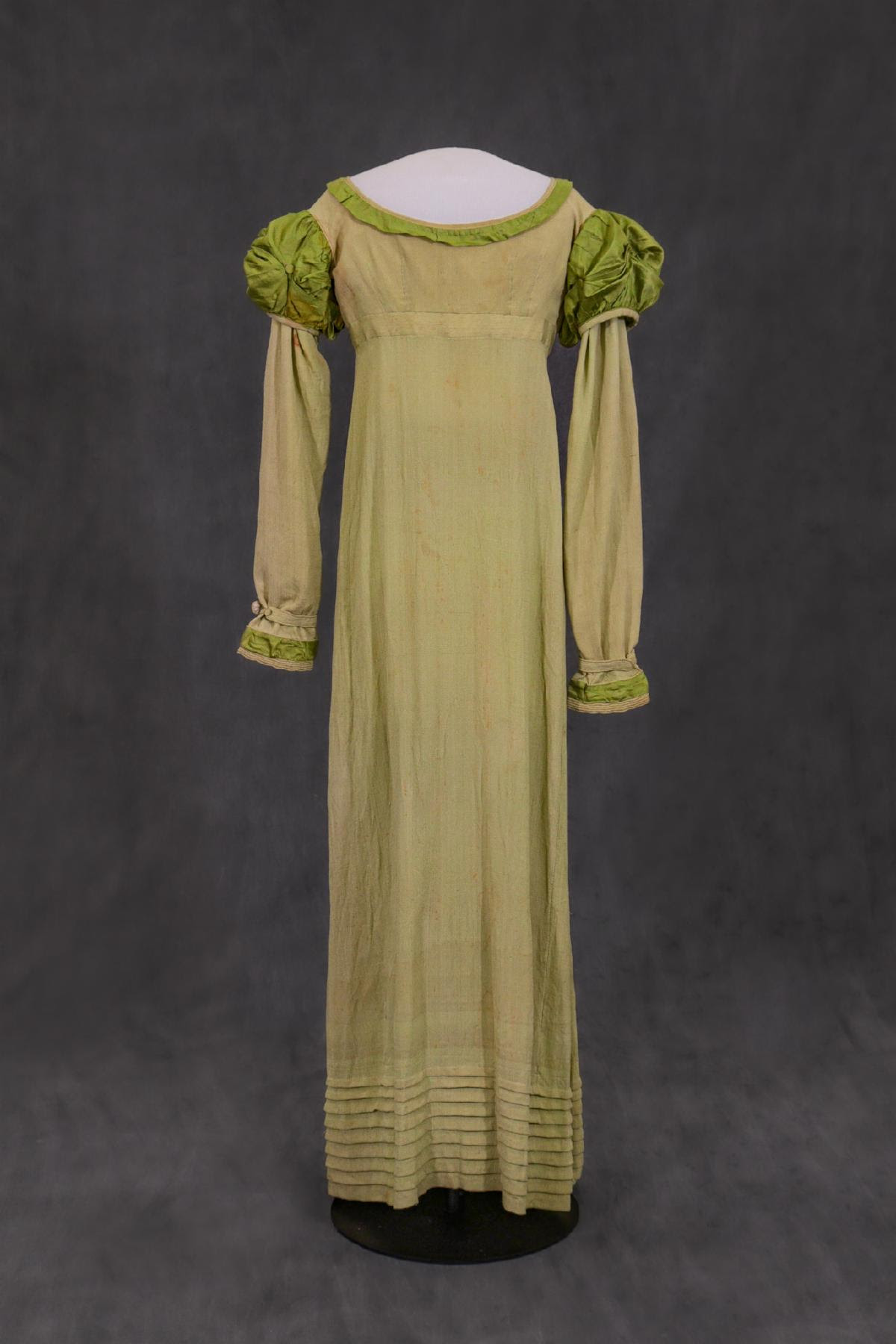 Clothing & Textiles: Empire Fashion of the Early 1800s
In honor of St. Patrick's day, clothing historian Charlotte Engel and Archivist Michael Murphy selected this green dress from the Museum's clothing and textile collection to feature.
Leslie Latham (1894-1971) and his wife, Hazel Runyon Latham (1897-1981), lived together in Plainfield, NJ before moving to Madison CT, where Leslie passed away in 1971. Hazel moved to New Canaan in 1976 and lived there until her death 5 years later. The dress was donated by her family.
Records indicate that this dress belonged to a descendant of Hugh or Stephen McLellan (brothers) of Portland, MA. Major Hugh McLellan was a wealthy merchant descended from a prominent Scots-Irish family that engaged in the retail and shipbuilding trades. He was owner of Maine's largest shipping fleet, an industry that thrived after the Revolutionary war.
Hugh commissioned a mansion to be built in Portland in 1800. The mansion is currently known as the McLellan-Sweats Mansion and functions as an art museum.
The dress is lime green silk crepe, trimmed with green satin and features puffed sleeves over long sleeves. Fashion during the period between 1800-1815 was referred to as "Empire Fashion" based on the empire silhouette, where dresses were closely fitted to the torso under the bust, and fell loosely below. Small puffed sleeves were considered fashionable, and are featured on this dress over the top of long sleeves fastened with buttons at the wrist. The neckline is wide and trimmed with green satin to match the puffs at the shoulders.