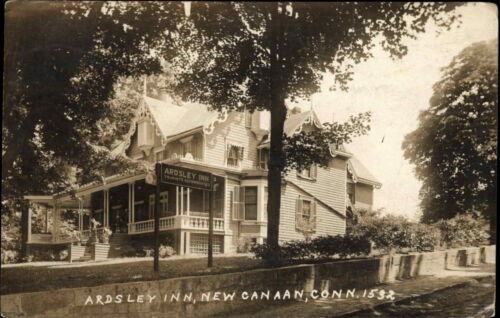 In Town Hospitality – the Ardsley Inn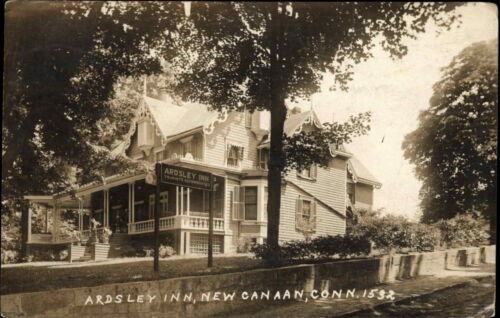 Over the past few months, I have twice focused on New Canaan's historic inns – the Birdshall and the Melba. Then the other day, when looking through the photo file, I found a picture of the Ardsley Inn located at the corner of Park and Maple Streets. When I asked the Librarian, Michael Murphy, about it, he replied, "It apparently had better food than the Melba," and directed me to a thick research file. Much to my delight, the file contained an 82-page essay by Willard R. Downing written in 1968 – The Fabulous Ardsley Inn: Memories of its Proprietors and Guests and of Related Events – Local, Near, and Far – Recalled in Leisurely but not Time-exact Sequence.
Downing's account provides a rich history. In 1905, Mrs. J. Mortimer Dow purchased the 1790 building and converted it to a year-round boarding house with a green exterior and white trim. In 1913, Mrs. Dow transferred management of the inn to her daughter, Gertrude, the wife of Joseph Silliman, who owned a local grocery and general store, and later Silliman's Hardware Store. Under Gertrude's direction, the inn flourished. Its success was largely due to the cooking of Fanny Warren, who was famous for her split pea and black bean soups, popovers, and oversized omelettes.
Willard Downing arrived in 1913 and did not leave until he married Helen Goodell in 1921. He initially came to New Canaan for health reasons; his New York City physician wanted him to build up his strength and gain weight in the countryside. He paid $10 a week for room and board at the Ardsley, and managed to jump from 145 to195 pounds in five months thanks to Fanny's incredible cooking. Although his doctor told him he was healthy enough to return to the city, he decided to stay in New Canaan and commute by train.
In his lengthy essay, which includes wonderful digressions into historical events more broadly, Downing recounts the many guests at the Ardsley. To name just a few, these included: Farmer Murphy, the New York editor of the Chicago Tribune, who lived during the winter at the Ardsley with his wife and two children because their farm on North Wilton Road was too far away from downtown in inclement weather; Mrs. Solon Borglum, nee Emma Vignal, who moved into the Ardsley after the death of her husband, the sculptor and founder of the Silvermine Group of Artists; Bliss Carmen, the Canadian poet, who lived a block away but came to the Ardsley for all his meals; the artist D. Putnam and his wife, Katherine Brinley, who performed Chaucer readings under the name of Gordon Brinley; muckraking journalist Lincoln Stevens; and Jane Cooper, an actress who appeared in the Broadway production of The Music Master with David Warfield. (Willard recounts the following story, "Jane and David were close friends as well as co-actors, but for Jane the final scene was almost always marred. Warfield, it seemed, was very fond of raw onions and ate them every night for dinner. Consequently, when the final heart-felt embrace of mutual discovery took place, Jane was almost smothered by the powerful reek of onions");
Gertrude and Joseph Silliman had a home on Lake Waccabuc (my neck of the woods) and, in summer, guests were invited there. Meals were served picnic style, and guests boated on the lake, swam, and fished. Apparently, summer guests had such fun that many became permanent residents of the Ardsley.
The Ardsley Inn closed in 1934. With the Birdsall, it was torn down to create the parking lot for St. Aloysius Church. But, as Downing writes, it was a "remarkable and unique" institution. His essay is well worth the read for its glimpse into the comings and goings of Ardsley guests, and their experiences in New Canaan. It certainly seems to have been a lively time.
Warm Regards,
Nancy Geary
Executive Director