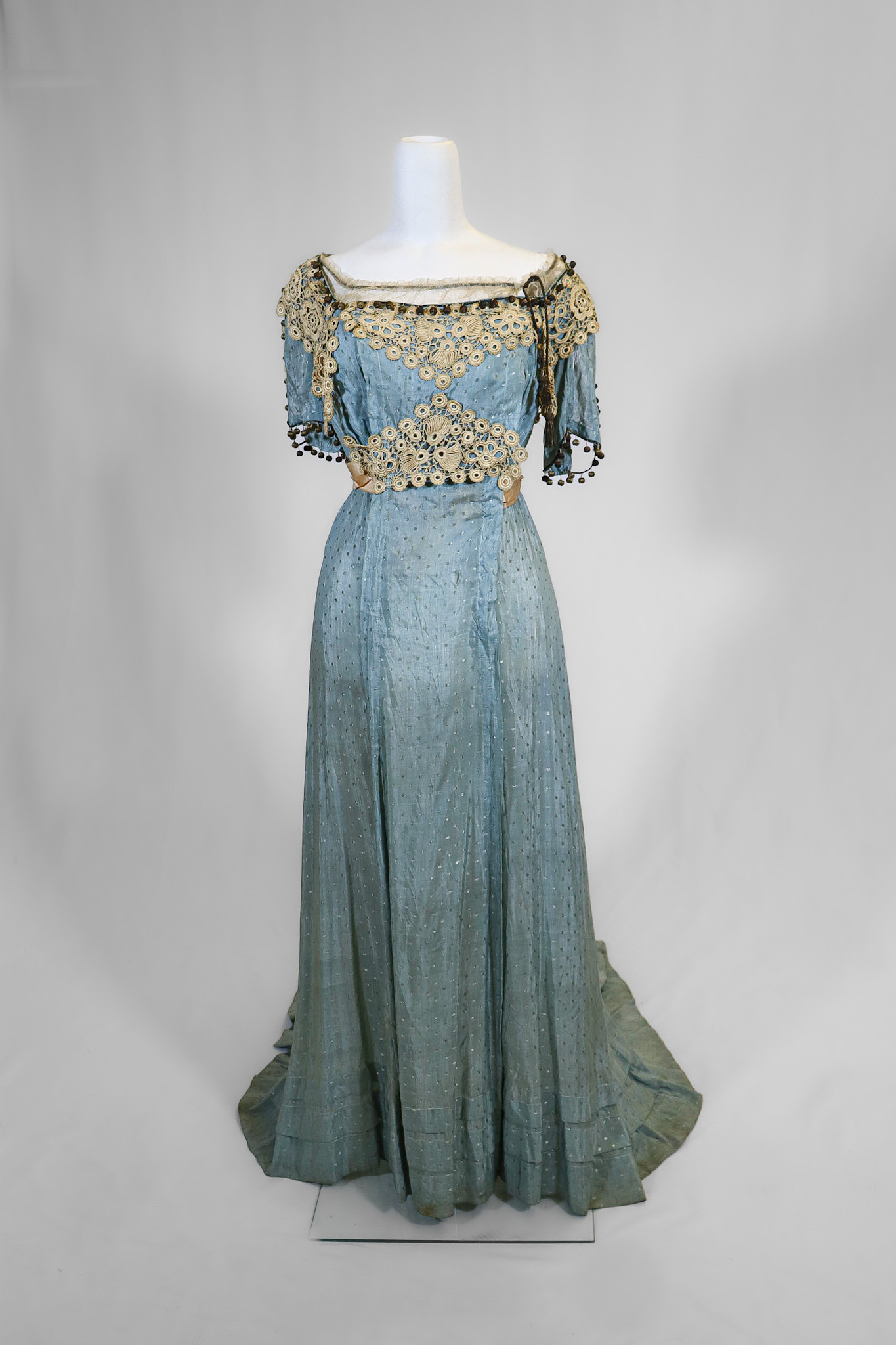 Blue Silk Gown with Handmade Lace and Metallic Baubles c. 1912s
This blue dress dates back to c. 1912 and was donated to our museum by Marjorie Knight MacRae (1903-1973). Marjorie Knight was a children's book author who married Elliott Beach MacRae in 1938. At the time Elliot was secretary and treasurer of publishing company E. P. Dutton & Co. Inc. before later becoming president of the company. The couple moved to New Canaan in 1939, where she went on to publish several books including Alexander's Christmas Eve, Alexander's Vacation and Alexander's Birthday featuring a blue spotted horse and his friends. She was particularly active in the New Canaan community, taking a special interest in the Historical Society, where she took a leading role in the preservation of the John Roger's Studio. It is most likely that this blue dress belonged to her mother. 
The dress is made of blue silk with handmade lace embellishing the neckline, waist and short sleeves. The body of the gown remains in delicate condition and features a repeating pattern of Swiss-dotted silk. The bodice is decorated with small beads covered in a metallic thread, which has tarnished and discolored with age. The neckline features a small drawstring created with a string made of the same metal material as the small baubles on the neck and sleeves.
Fashion during this decade was characterized by rich and exotic opulence preceding World War I. In addition to new Orientalism-inspired styles introduced by couturier Paul Poiret, women's fashion also drew inspiration from Ancient Greece and the classics. Venice-based designer Mariano Fortuny y Madrazo created a special pleating process, creating long sheath dresses named after a statue at Delphi. These dresses were often made from silks in shades of color reminiscent of moonlight or a lagoon.