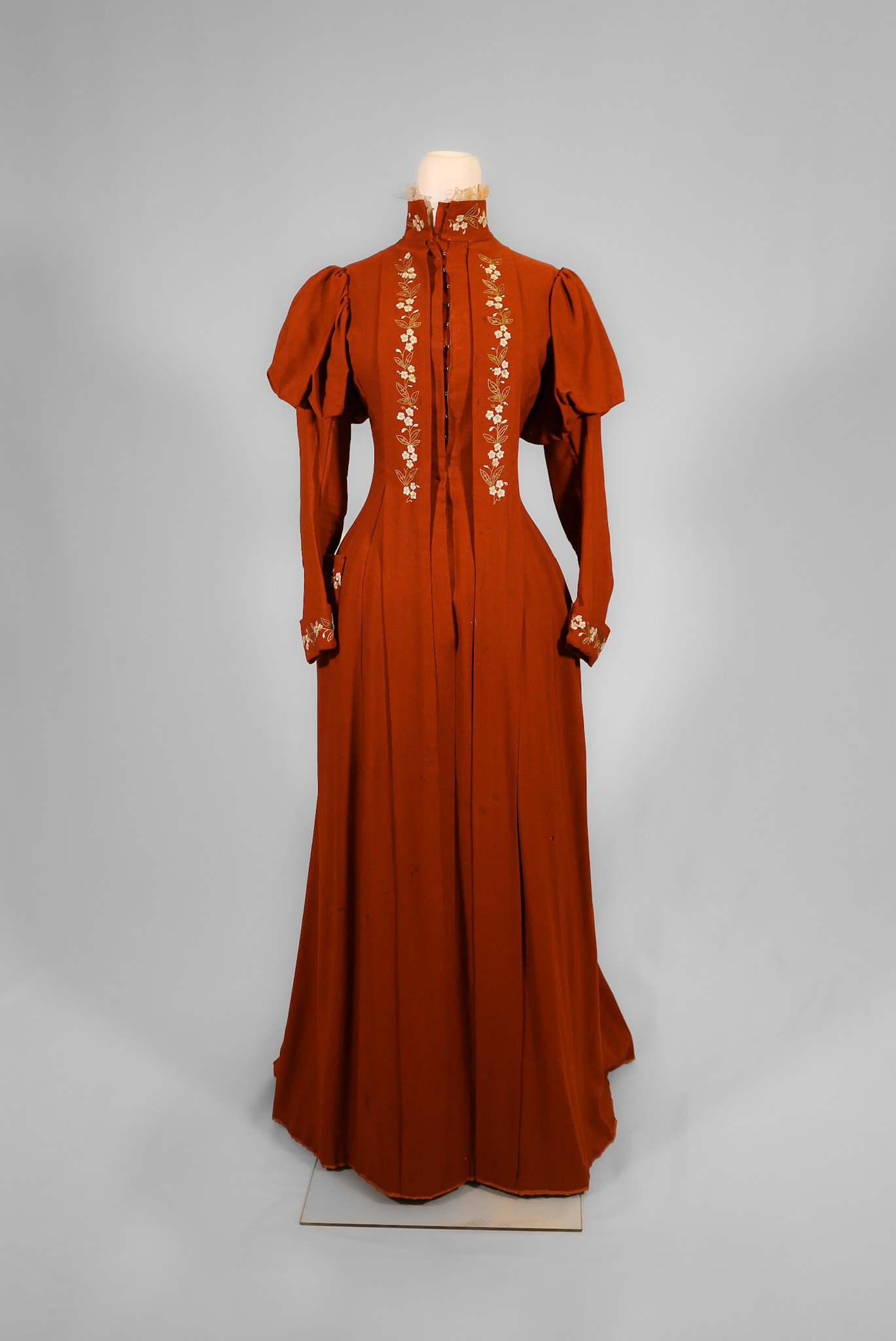 Clothing and Textiles: Scarlet Wool Dress with Puffed Shoulders and Flower Embroidery c. 1880s
This dress in our collection dates back to c. 1880 and is identified as an afternoon or house dress. The fabric is challis, which is a lightweight woven fabric originally made from a silk-wool blend. The dress is rich henna-color and features small puffed shoulders and wrist length sleeves. 
The defining feature of this dress is the long draping of the fabric that is reminiscent of the "sack back" or robe a la française gowns that were popular in the 18th century. These gowns had fabric arranged in box pleats that fell loosely from the shoulder to the floor with a slight train, almost like a cape. Embroidered onto the pleats on the back and front are small forget-me-nots, which are a medieval symbol of love and remembrance. 
The silhouette of the dress is identified as from the 1880s due to the princess-line seams that define the waist combined with the draping on the back, identified as a "watteau-style" gown. The watteau gown came about during the Aesthetic movement which spanned from 1860-1900 as a direct response to the Industrial Revolution. Society saw a counterculture of artists and writers in mid-Victorian England quietly rise against what they saw as the dehumanization of the Industrial Age. Fashion drew from softer, more comfortable styles inspired by the medieval period; dresses often featured a small train, sleeves were often puffed at the shoulder and gathered at the arm, with embroidery emphasizing natural and often floral motifs.
It is difficult to date our dress to its precise year without proper records, but while the aesthetic movement spanned nearly four decades, the majority of dresses that follow this style appear to have been created and worn between 1880-1995.