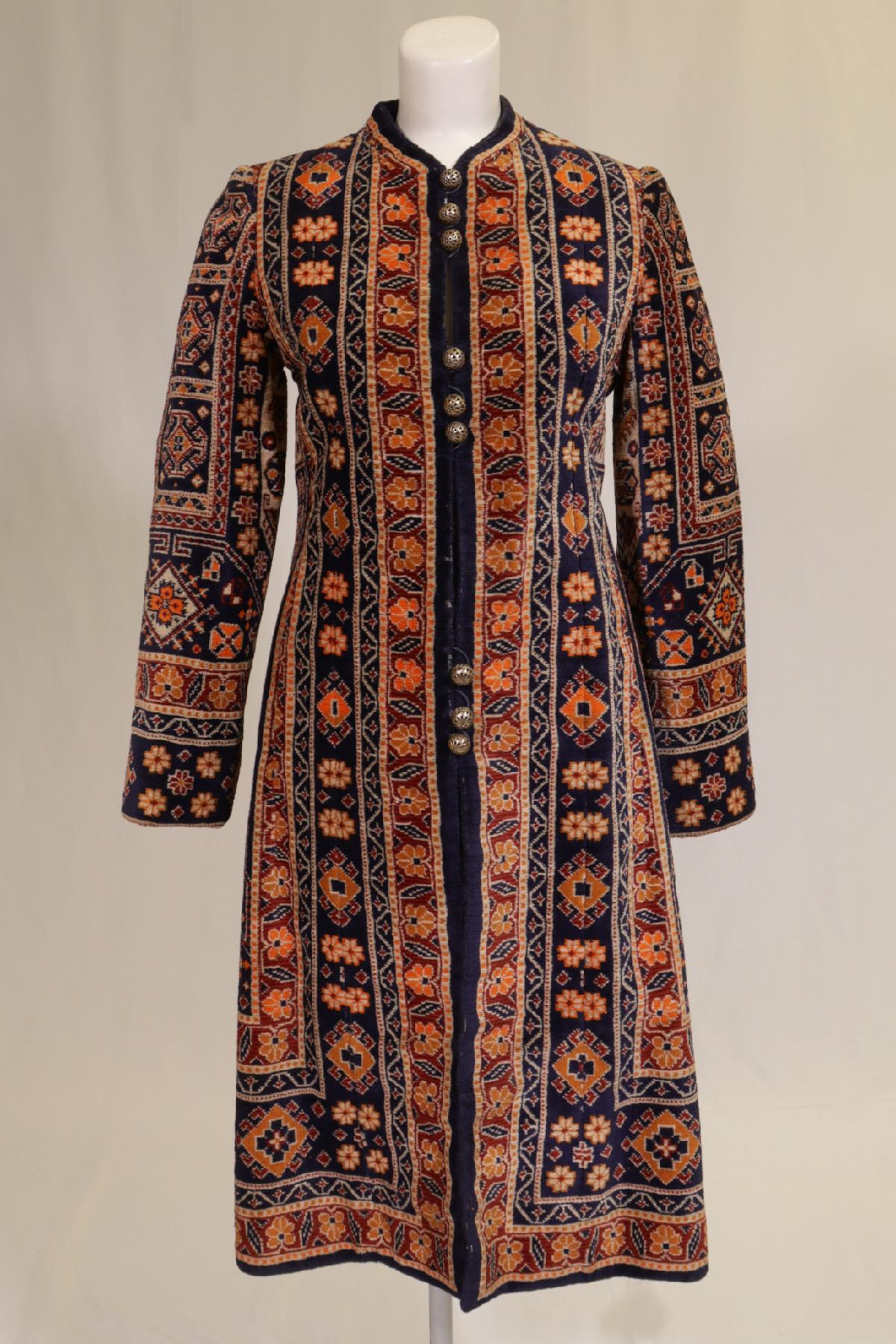 Clothing & Textiles: Circa 1960s Adele Simpson Tapestry Apparel
This tapestry coat and corresponding blue jersey dress belonged to international fashion-expert Ardelle Tuma, who spoke at a fundraiser benefiting the New Canaan Historical Society in 1987. Miss Tuma was former Vice President and fashion director of Carson Pirie Scott & Co., worked as an officer of The Fashion Group Inc., and later formed Ardelle Associates.
Both the coat and dress are from the 1960s and bear the label "Adele Simpson," a prominent American designer whose career spanned nearly 50 years. The knee-length coat flares out slightly in an A-line and lacks a distinct waist. It is made from a heavy, tapestry-like material reminiscent of a Persian rug. The coat can be fastened with three clusters of buttons along its center at the front. The matching jersey dress is made from a blue knit fabric and features wrist-length sleeves and a tight collar with a zipper up the back. Both pieces are made with darker, more earthy tones, which suggests they were made in the late 60's when fashion started to move away from the bright colors and pastels favored earlier in the decade.
Many of Adele Simpson's designs drew inspiration from different fashions and cultures around the world. Her husband, Wesley Simpson, was a textile executive who helped her design many of the fabrics she used in her collections. Simpson dressed several First Ladies throughout her career, including Lady Bird Johnson, Pat Nixon, and Barbara Bush. Pat Nixon's 1973 inaugural gown- a turquoise and silver princess-line dress- was designed by Simpson. She passed away at her home in Greenwich, CT in 1995.