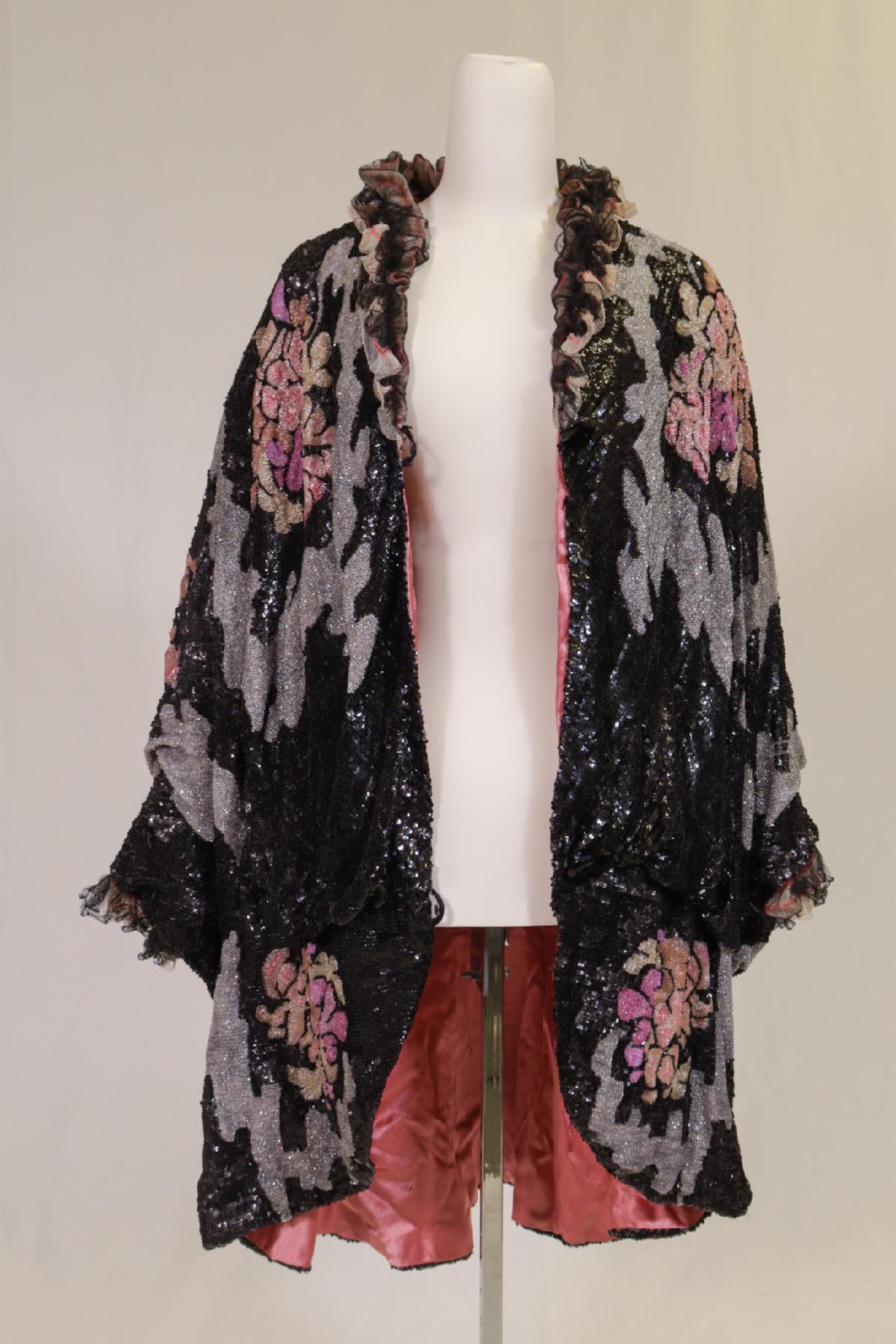 Clothing & Textiles: Fashionable Coats from the 1910s
Black Coat
This black sequined evening cape with large floral beaded designs (c. 1914) was donated to the New Canaan Museum & Historical Society by Lorna Landis Walker of Overlook Drive in New Canaan. Lorna was married to Robert Pennell Walker and was a resident of the town for over 20 years, working as a real estate agent for a variety of companies. The evening cape belonged to her grandmother.
The label on the interior of the garment reads "Peter Robinson, Regent Street, London, England," which indicates that the wearer bought the evening coat abroad. Peter Robinson was a chain of department stores in London that specialized in fashionable ladies' clothes and accessories between 1850 and the 1970s. The beadwork flowers on the wrap evoke a sense of the 'art nouveau' style that was popular between 1890 and 1914, before the start of World War I, and was inspired by natural forms such as the curves of plants and flowers. 
Purple Coat
This vibrant purple cocoon coat (c. 1914-15) was donated by Katherine Schulhof (née Clarkson) who married William R. Schulhof in 1944. Together she and her husband had four children and lived on Canoe Hill Road in New Canaan. The coat features a heavy lace collar and a large tassel on the back, and cerise satin lining on the interior.
Fashion during the 1910s was characterized by a rich and exotic opulence in the beginning of the decade that contrasted greatly with the fashion during the Great War a few years later. The fashionable silhouette for women became much more fluid and softer than the 1900s. Orientalism and the Art Deco movement had a large influence on clothing, as seen with tunic and "hobble" skirts, flowing pantaloons, sheath dresses, and cocoon coats such as this one. Cocoon coats were characterized by large shoulders and narrower hems, and were made with bright silks, rich velvets, or brocades.