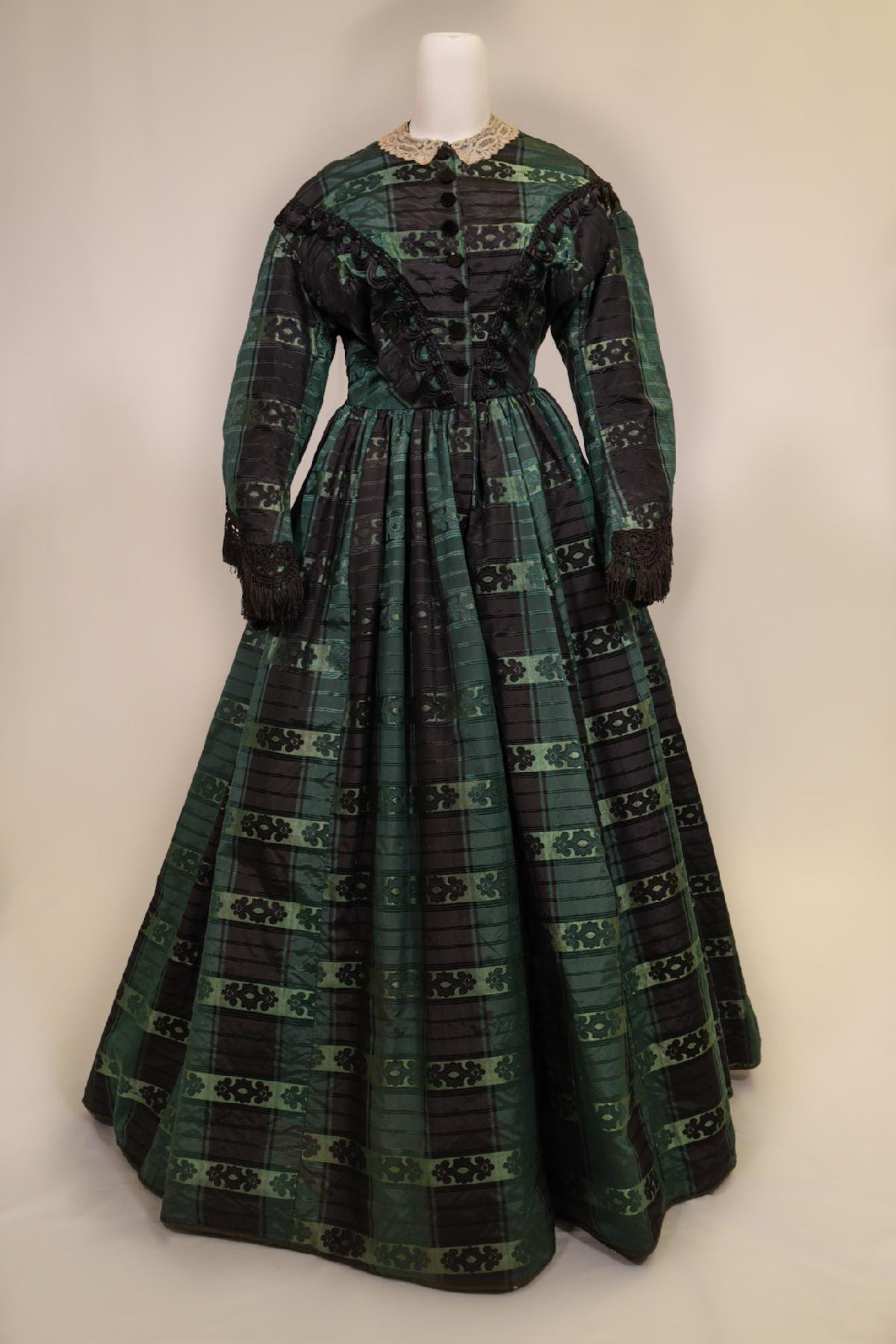 Clothing & Textiles: Circa 1860s Taffeta
Like many of the pieces in the new Canaan Museum & Historical Society's collection, this 1860s taffeta gown has no information about it in the Museum's accessions records.
However, it is in excellent condition, and is a beautiful example of fashion in the mid-19th century, not only because of the silhouette, but also because of its dark green striped fabric. Women enjoyed brightly colored, and often brightly patterned, dresses during this time period. Stripes and plaids were common. This daytime gown also features a high neckline and large, balloon-like sleeves, which had remained popular since the decade before.
This dress is also a fine example of how crinolines shifted throughout the decade. Silhouettes moved towards the back, and became pyramid-shaped rather than the dome shape associated with the previous decade. This is evident by the length of fabric along the bottom of the skirt, which trails along the floor behind the rest of the petticoat. Rather than becoming a train, this extra fabric would have been held up by conical hoops underneath.
By 1860, the New Canaan census had given the town a population of 2,770, making it almost twice the size of Darien and a third larger than Wilton. Of New Canaan's workforce, 328 men worked in shoemaking and 264 were farmers. The number of new occupations on the 1860 census suggests a growing sophistication in New Canaan's way of life, especially in the village proper, where the town now boasted clock repairs, book binding, a hardware store, cigar factory, and bank. This beautiful dress reflected the growing prosperity of its wearer.