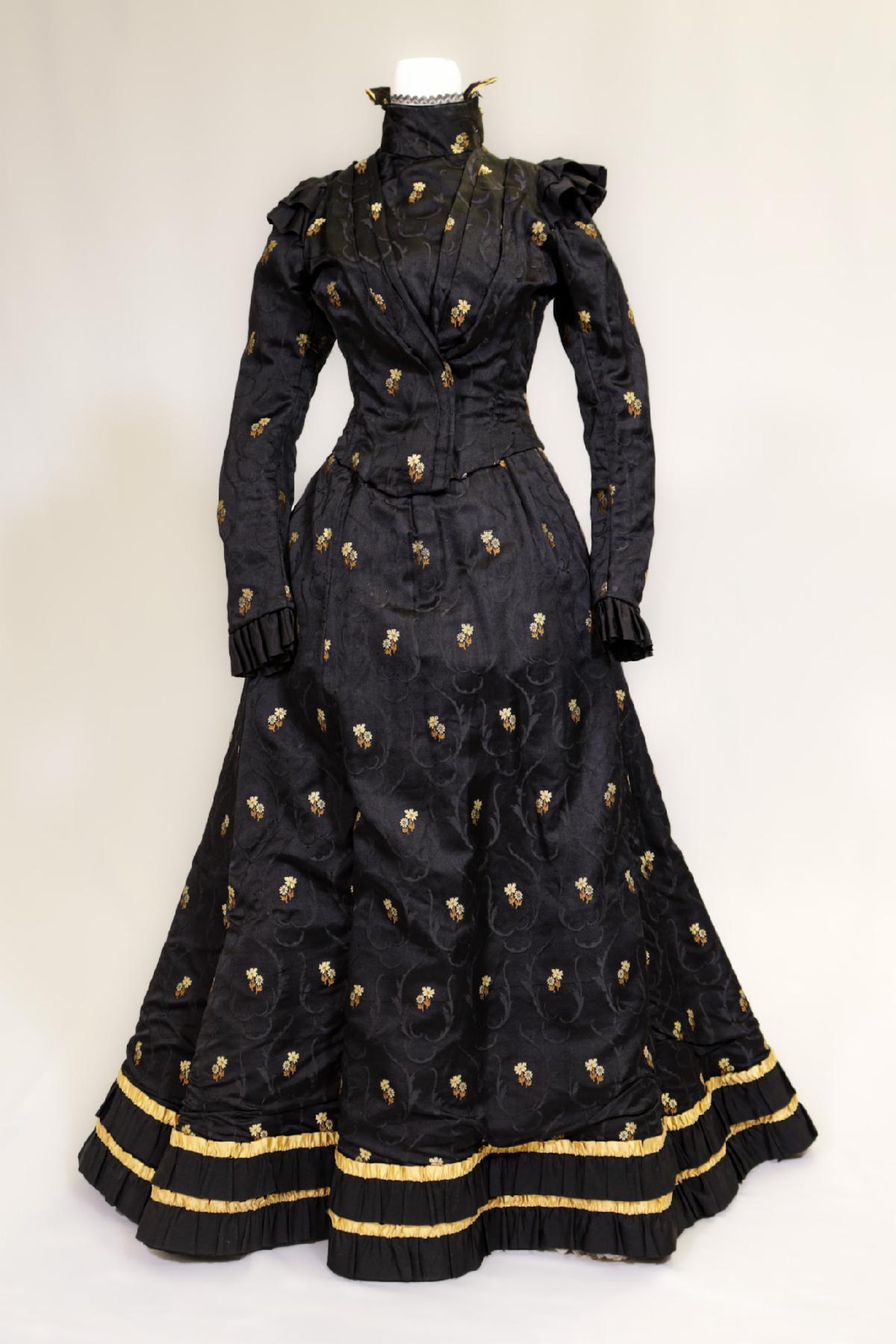 Clothing & Textiles: Circa 1898 Black Brocade
This 1898 black brocade dress with yellow daisies was donated to the Museum in 1978 by Mrs. Juanita Shropshire Gillooly (1889-1979). Mrs. Gillooly was married to Walter Gillooly, an architect known for his work with Hiram Halle in Pound Ridge. Widowed at a young age, she remained in New Canaan with her son, John, for over 40 years in their home on Jelliff Mill Road.
The gown is a beautiful and detailed example of fashion from the 1890s. Skirts were bell or trumpet-shaped and extended to the ground. Bodices featured high necklines and long sleeves, sometimes with puffed shoulders. This period saw a return to tight sleeves with small puffs or ruffles capping the shoulders, while still fitted at the wrist.
It features a high neckline with petal-like details around the back of the collar which complement the daisies embroidered onto the fabric. Small ruffles cap the shoulders, while slim sleeves extend to the wrists and also end in a ruffle. The bodice is fitted with flexible metal boning around the torso to help maintain a structured silhouette with a nipped-in waist. The skirt extends to the ground and is finished with black and gold ruffles overlapping along the hemline. The origins and creator of this dress are unknown as there is no label in the interior.
Given the date of the dress, it may have belonged to Juanita's mother, Susan Shropshire of Dallas, Texas, as Juanita was still a child in the 1890s.